See Better Images of Sunspots During the Total Solar Eclipse
Abe Michelen | August 20, 2017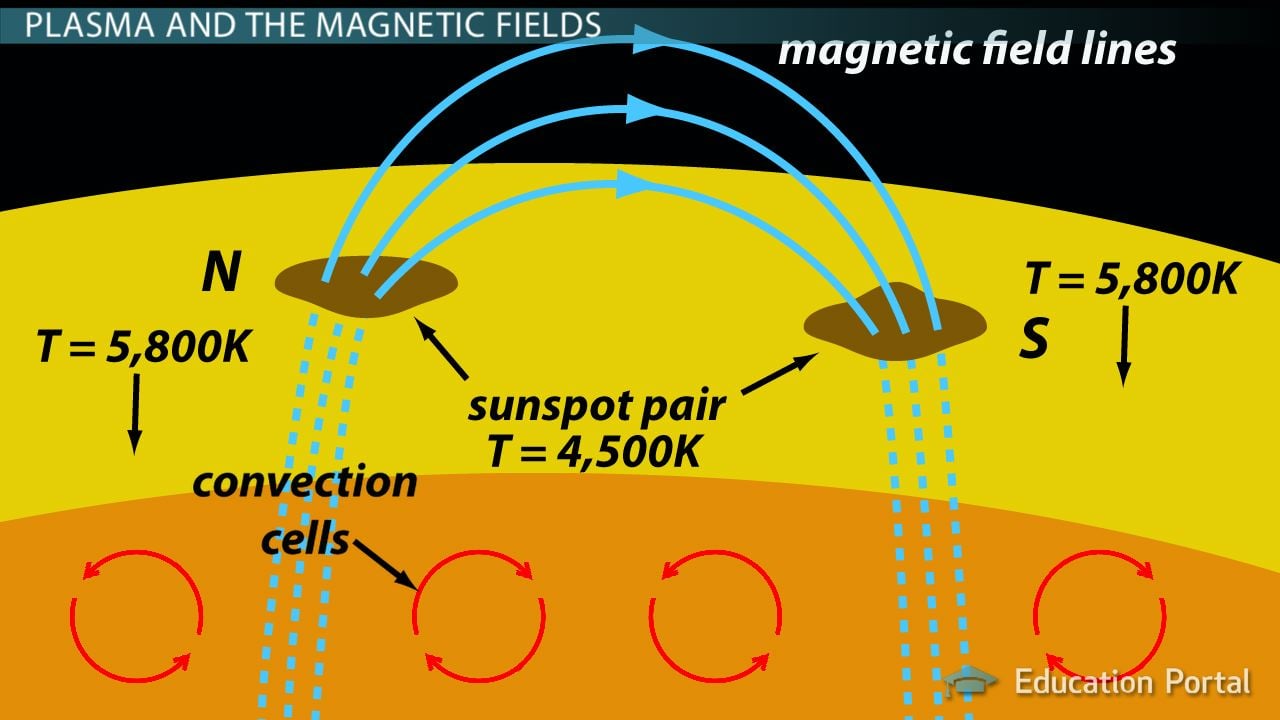 How sunspots are created. Source: Study.com
In the region called the photosphere on the Sun's surface, cooler areas called sunspots are created that may last a few months. Sunspots can be extremely large, up to 100,000 km in diameter. Sunspots are caused by interactions with the Sun's magnetic field, when there are intense magnetic activities, a phenomenon not clearly understood.
During these magnetic activities, a large amount of energy is released from the sunspots to produce solar flares and big solar storms called coronal mass ejections. As shown in the top figure, sunspots are produced in pairs and have temperatures well below the temperature of the photosphere surrounding them, a not-understood feature.
The optimal time to look at sunspots is when a solar eclipse occurs, like during the total solar eclipse on August 21. This is precisely what a team of solar physicists at the New Jersey Institute of Technology (NJIT) will do.
Dale Gary and Bin Chen, NJIT physicists, will spend the day observing sunspots at microwave radio wavelengths from the NJIT's Expanded Owens Valley Solar Array (EOVSA) in California and from the Jansky Very Large Array (VLA) radio telescope in New Mexico.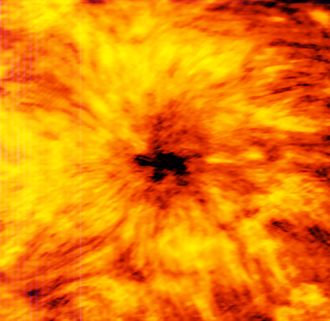 Atacama Large Millimeter/submillimeter Array (ALMA) observes a giant sunspot at 1.25 mm wavelength. Source: ALMA (ESO/NAOJ/NRAO)
"Radio waves from the solar corona have long wavelengths, and as resolution is proportional to wavelength, our images ordinarily have rather low spatial resolution. But we can capture sharper images as we move in the direction of the Moon's motion as it blocks different parts of the Sun at different times," explains Gary, a distinguished professor at NJIT's Center for Solar-Terrestrial Research (CSTR), adding, "Radio waves are sensitive to the otherwise invisible corona of the Sun, especially its magnetic field, so we will use the eclipse to make high-resolution images of the corona above active regions."
This eclipse is no different from previous solar eclipses. What is different now is radio telescope technology. Nowadays there are large radiotelescopes that will be looking at the sun during today's eclipse, among them are the Very Large Array (VLA) in New Mexico, the Arecibo Radiotelescope in Puerto Rico with the largest parabolic antenna in the world and the Atacama Large Millimeter/submillimeter Array (ALMA), located at about 5,000 m above sea level in the Atacama desert in the north of Chile.
"What is different is that both EOVSA and the VLA have much greater capabilities than in the past," Gary said, "so we expect much better radio images and more complete frequency coverage from which to deduce the magnetic field, temperature and density of the corona."
"The solar science to be addressed focuses on the magnetic structure of the solar corona, on transient phenomena resulting from magnetic interactions, including the sudden release of energy and subsequent particle acceleration and heating, and on space weather phenomena," adds Chen.
Some pictures of sunspots are shown here.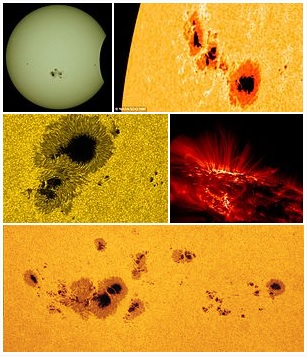 Top: sunspot region 2192 during the partial solar eclipse in 2014[1] and in September 2011. Middle: sunspot close-up in the visible spectrum (left) and in UV, taken by the TRACE observatory. Bottom: A large group of sunspots stretching about 320,000 km (200,000 mi) across. Sources: Tomrun / CC BY-SA 4.0; all others public domain