San Francisco Awards Wastewater Treatment Contract
David Wagman | August 18, 2017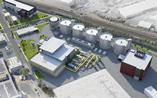 Model of the water treatment facility.
MWH Constructors and joint venture partner Webcor Builders have been awarded a $939 million contract by the San Francisco Public Utilities Commission to serve as construction manager/general contractor for the Southeast Water Pollution Control Plant Biosolids Digester Facilities Project.
The Southeast Water Pollution Control Plant was built in 1952 and is the commission's largest wastewater treatment facility, treating 80 percent of San Francisco's sewage and storm water flows.
The Biosolids Digester Facilities Project aims to replace existing digester facilities and improve energy recovery and maximize control of odors.
The facility will be one of the first projects in the U.S. to use the Cambi Thermal Hydrolysis Process (CambiTHP). The CambiTHP will enable the new facilities to produce higher quality biosolids, capture and treat odors more effectively, and maximize biogas utilization and energy recovery to produce heat, steam and energy.
Construction is expected to begin in summer 2018 with the facility becoming fully operational in summer 2025. The project will be constructed in two parts to allow for continued use of the facilities.
Part one includes demolition and site preparation of the eastern portion of the treatment plant and existing asphalt plant, and construction of new facilities. Part two involves demolition of the Central Shops and western portion of the facility, with final completion of the new Biosolids Digester Facility.