Chemical Stability Gains for Non-Aqueous Redox Flow Batteries
S. Himmelstein | August 15, 2017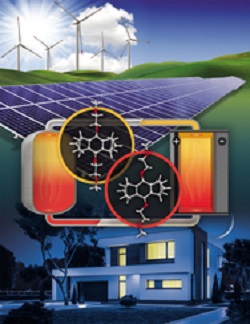 A new battery material is designed to be electrochemically stable to prevent losing energy to unwanted reactions. Source: Robert Horn, Argonne National Laboratory
A battery chemistry advance from the U.S. Department of Energy's Argonne National Laboratory brings the use of non-aqueous redox flow systems for grid-based storage one step closer.
As energy is stored in negatively and positively charged solutions inside large tanks for this battery, the researchers sought the ideal molecule to dissolve in the positively charged tank. During charging, molecules stored in the positively charged tank shed electrons through oxidation, and these now unstable, positively charged molecules begin to react with their surroundings and consume the charge that would otherwise be stored in the tank and used for power.
To maximize efficiency, the molecule was structured to hold as much energy as possible while also being stable enough to limit superfluous reactions. The researchers applied bicyclic substitution, which protects the most reactive parts of the molecule's atomic scaffolding, to dialkoxybenzene battery material, resulting in the formation of a novel catholyte molecule (9,10-bis(2-methoxyethoxy)-1,2,3,4,5,6,7,8-octahydro-1,4:5,8-dimethanenoanthracene).
The battery showed minimal loss of capacity after 150 cycles of charging and draining the battery, proving the high chemical stability of the molecule.