Lens-Free Holographic Microscopy for Medical Diagnostics in Low-Resource Settings
S. Himmelstein | August 14, 2017
A system developed at the University of California-Los Angeles improves prospects for bringing inexpensive medical diagnostic technology to resource-limited areas.
A new tissue biopsy protocol prepares samples by rendering tissues transparent. Tissue clearing methods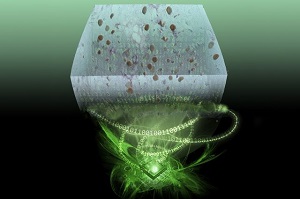 Rendering of a lens-free holographic microscope that uses a silicon chip and computer algorithms to create 3D images of tissue samples. Source: Ozcan Research Group/UCLAusually rely on expensive fluorescent dyes to stain the samples, but the researchers turned to colored, light-absorbing dyes that maintain sample integrity and are compatible with conventional microscopy tools.
A holographic lens-free microscope was assembled at a cost of just a few hundred dollars. The device generates 3D pictures with considerably less image data required by conventional scanning optical microscopes.
The set-up allows users to analyze tissue samples of 0.2 mm thickness, more than 20 times thicker than a typical sample. This capability enables scientists to view a larger sample volume to speed the diagnostic process.
To use the system, cleared tissue is first placed in a small container on a silicon chip equipped with millions of photo detectors. Shining light causes low-resolution shadows from the sample to fall on the chip, and these form holograms of the tissue to be assayed.
Shifting the sample relative to the image sensor and capturing the same holographic shadow enables 3D imaging. The researchers can then digitally view different cross-sections, or digital slices, of the tissue sample.