New Zealand-based BISON has launched the C-Lift P32—a portable container lift system that enables shipping,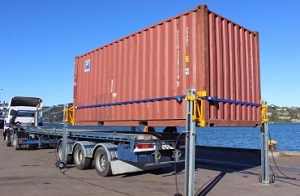 Source: BISON logistics and military operators to lift containers in any location. The P32 is easily transported, sets up in minutes and allows containers of all sizes and weights up to 32 tons (70,000 lbs) to be lifted on and off trailers. A key part of the P32 design is BISON's patent-pending lift and lock mechanism, which reduces the size of the hydraulic system considerably, but still enables heavy containers to be elevated 1.65 meters (65 inches) off the ground.
The system can be used in factories or warehouses to ease the pressure of live loading and chassis detention costs. Military, aid and project logistics operators can use the P32 to get containers in and out of remote locations more easily, avoiding reliance on local infrastructure. BISON is also fielding interest from construction and removals firms, wanting a mobile solution for delivering and collecting full containers at construction and urban sites.