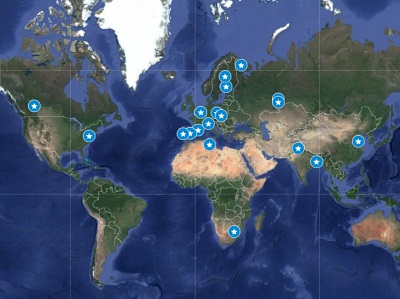 A map of the locations where birds were exposed to air pollution in situ in the studies reviewed. Map created using Google Maps. Source: University of Wisconsin-Madison
The effects of air pollution on human and ecosystem health have been widely studied, but what do we know about the impacts to our feathered friends?
A review of relevant literature published since 1950 was undertaken by researchers from the University of Wisconsin-Madison to determine the state of knowledge of how air pollution directly affects the health, well-being, reproductive success and diversity of birds.
Only a handful of studies have been conducted that assess the impact of direct exposure to air pollutants on bird health. The relative paucity of data is largely attributed to the difficulty in implementing research on wild bird communities. Factors such as types and levels of air pollution, dynamic atmospheric conditions, species-specific responses and challenges posed by distinguishing direct versus indirect effects of air pollution can confound efforts to assess avian impacts of pollutant exposure.
Despite some gaps in our understanding, the researchers provide clear evidence that birds are affected by exposure to a range of reactive gases and particles in the air, including air pollutants with established adverse impacts on human health. Adverse health impacts on birds are attributable to exposure to gas-phase and particulate air pollutants, including carbon monoxide, ozone, sulfur dioxide, smoke and heavy metals, as well as mixtures of urban and industrial emissions. Avian responses to air pollution include respiratory distress and illness, increased detoxification effort, elevated stress levels, immunosuppression, behavioral changes and impaired reproductive success. Exposure to air pollution may furthermore reduce population density, species diversity and species richness in bird communities.
The researchers hope this literature review serves as a springboard for more extensive investigations. Future research on avian responses to air pollution, especially of endangered species, could inform bird conservation programs and improve management of wild bird populations.
The study has been published in the journal Environmental Research Letters.