Most people are familiar with the challenges encountered when commuting to work: traffic congestion, accident risk, the growing problem of road rage. Commuting can also be hazardous to your health in terms of road vehicle-generated air pollution.
Researchers from Washington University in St. Louis, Mo., sought to determine when and where this risk is highest, and if driving habits can mitigate pollutant exposures. They each used portable instruments and sensors to monitor and simultaneously measure pollutant levels of their car's indoor cabin air and the air directly outside of the car during their own daily commutes.
During the four-month monitoring period, dashcam was used to identify a given pollutant concentration each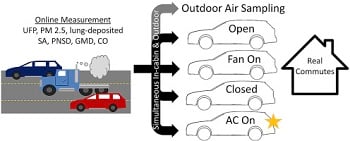 Pollutant exposures were measured for different ventilation parameters. (Source: Washington University in St. Louis)time they were: stuck behind a bus or truck, amid traffic on a freeway, stopped at a red light, or driving past restaurants or construction work. Different ventilation settings inside the cars were also tested, including driving with the windows open, with the windows closed, with the fan on, and with the air conditioning (AC) on.
Car drivers can expect highest particulate matter and carbon monoxide exposures when driving with windows open or the fan on. The lowest exposures are realized with windows closed or the AC on. Using the AC reduced in-vehicle pollutants by 20-34 percent.
The AC is pulling outside air, running through the same filter with the same ventilation path as the fan. However, when the AC is operating, the cold surface of the evaporator attracts pollutants and pulls them out of the air stream.
Additional proof of the pollution control prowess of automotive cooling systems: no in-cabin carbon dioxide concentrations were measured during 75 percent of the journeys made with the AC on.
It's best to keep cool during your commute.