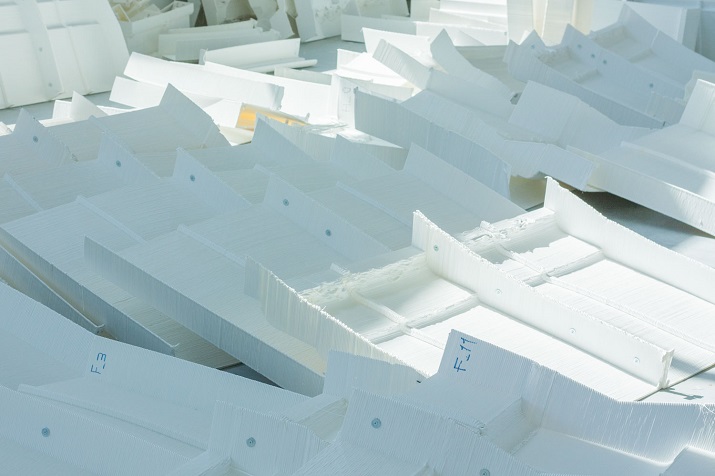 Detail of set pieces fabricated in white PLA on a 3D printer. Source: WASPThe intersection of technology and the arts is always an interesting place to watch. One of the latest innovations to appear there is a set design for a theatrical production—not just a set model or a piece of furniture, but a full working set on which the piece will be performed—created by a 3D printer.
The set was fabricated by Italian 3D printer manufacturer WASP, for a production of the 19th-century French opera "Fra Diavolo." Directed by Giorgio Barberio Corsetti with conductor Rory McDonald, the comic opera composed by Daniel Auber will be staged in October 2017 at the Teatro dell'Opera di Roma, located in Rome, Italy.
The set concept relies on the appearance of building deformation—similar to what one might see in one of Salvador Dali's works—to create the idea of an altered perception of reality. The production's creative team looked to 3D printing technology to produce the effect.
In order to fabricate the set on its DeltaWASP 3MT printers, WASP needed to subdivide it into 223 separate pieces. Using white-colored PLA as the medium, five printers were employed over the course of three months to complete the task. Components were then shipped from WASP's warehouse to the theater, where they were assembled and affixed to a wooden carrying structure.
According to a press release from WASP, which is a technological partner for the production, the printed pieces contained a few small inaccuracies but they did not compromise the outcome. "On the contrary, they emphasized the craftsmanship and the special character of the work, and the director welcomed the final result with great satisfaction."
WASP also described the project as "a test, an experiment, and a successful achievement that could pave the way for new future collaboration between theatre and 3D printing industry."