Delta Breaks Ground on $4bn LaGuardia Terminal
David Wagman | August 10, 2017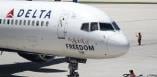 Delta Airlines broke ground August 8 on a $4 billion, 37-gate terminal at LaGuardia Airport in New York City.
Delta's terminal will feature four concourses with 37 flexibly sized gates that can accommodate Delta's full fleet; a new, larger Delta Sky Club with a Sky Deck; new hold rooms with more seating; 30 percent more concessions space; and "sustainable and scalable technology befitting of an airport of the future."
The Delta project is part of the overall LaGuardia Airport redevelopment effort that broke ground in June 2016 on the new roadway configuration and on the LaGuardia Gateway Partners passenger terminal concourses on the western half of the airport.
The $8 billion project is intended to transform LaGuardia Airport into a single, unified facility with expanded transportation access, increased taxiway space and passenger amenities.
By moving the unified airport closer to Grand Central Parkway, the project is intended to increase airport taxiways by more than two miles and reduce airport ground delays. The design will also take into account additional space for security check-in to help diminish wait times for passengers as they pass through mandatory screening.
The Port Authority of New York and New Jersey approved Delta's lease agreement in July. The airline will provide $3.4 billion toward the project.
The Port Authority is committing $600 million to leverage Delta's investment. The Port Authority's commitment includes $200 million toward the new Delta facilities, including the construction of new concourses and ramps; $185 million for a new electrical substation to support the power requirements of the new building, plus an expansion of the East Garage and temporary parking during construction; and $215 million for new roadway and additional supporting infrastructure.