Video: Magnetic Fields Destroy Bacteria on Artificial Joints
S. Himmelstein | August 10, 2017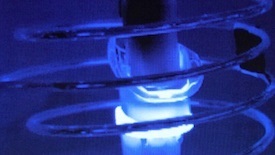 Thermal image shows that alternating magnetic fields selectively heat the metal knee joint. Source: UT Southwestern Medical Center
Bacterial infections on artificial joints used in knee and hip replacements are a common and serious complication. The bacteria tend to form slimy films on the metal surfaces of the joints called biofilms, which are difficult to treat using antibiotics.
Scientists at the University of Texas Southwestern Medical Center have developed a new technique using high-frequency alternating magnetic fields (AMFs) to heat artificial joints in the body and destroy bacterial films on their surfaces.
Electrical currents are produced on metal in the presence of AMFs, resulting in heat generation. If the direction of the magnetic fields is rapidly switched back and forth (i.e., high frequency), then electrical currents only flow along the outer edge of the metal, which is where the biofilm is.
Heating metal surfaces in this manner was demonstrated to destroy biofilms and deactivate several species of bacteria on prosthetic joint models. AMF treatment also enhanced the effectiveness of antibiotic treatment. Mouse-model safety tests indicated that high-power, short-duration doses of AMF minimize heat damage to adjoining tissue.