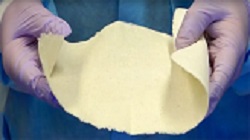 The biomaterials can potentially be used to support natural hormone production in young cancer patients and aid wound healing. Source: Northwestern UniversityA new class of biomaterials has potential for tissue engineering, wound healing and cancer therapy. Bioactive 'tissue papers' were developed by Northwestern University researchers by combining a polymer with structural proteins excreted by cells that give organs their form and structure. The resulting material is pliable enough to be folded into an origami bird.
Each tissue paper has the cellular properties of the organ from which it is derived. The materials were made with ovarian, uterine, kidney, liver, muscle or heart proteins obtained by processing pig and cow organs.
The process for fabricating these tissue papers was discovered after an accidental spill of 3D printing ink. Researcher Adam Jakus, now chief technology officer and cofounder of the startup company Dimension Inx, LLC, was trying to make a 3D printable ovary ink similar to materials previously developed for regenerative medical use. Attempts to wipe up the spill were useless, as the ovary ink had formed a dry sheet.
"I knew right then I could make large amounts of bioactive materials from other organs. The light bulb went on in my head. I could do this with other organs," said Jakus. "It is really amazing that meat and animal by-products like a kidney, liver, heart and uterus can be transformed into paper-like biomaterials that can potentially regenerate and restore function to tissues and organs. I'll never look at a steak or pork tenderloin the same way again."
Tissue paper made from a bovine ovary was used to grow ovarian follicles, which produced the hormones necessary for proper function and maturation. The researchers theorize this material could be implanted under the arm to restore hormone production for cancer patients or even women in menopause.