Bioadhesives in Medical Devices, Drug Delivery and Pharmaceutical Packaging
Gary Kardys | August 08, 2017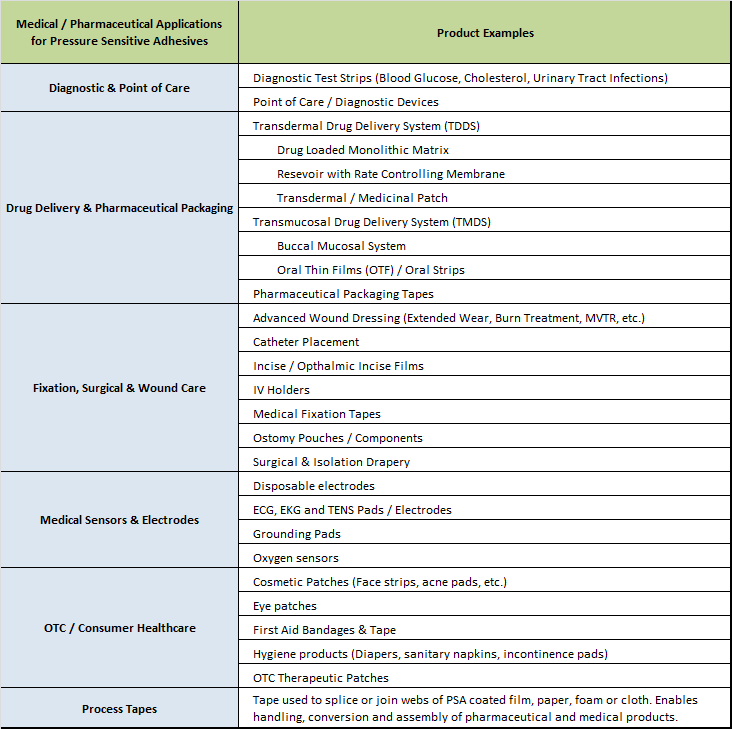 Table 1: Pressure sensitive adhesive applications in drug delivery, medical device and pharma packaging products. Image credit: IEEE GlobalSpec
Medical-grade pressure-sensitive adhesives (Medical PSAs) are found not only in medical tapes, but in a wide variety of sophisticated medical devices and pharmaceutical packaging products (Table 1). When most people hear the term "medical adhesive," images of self-adhesive bandages or medical tapes for holding gauze over an injury come to mind. These are over-the-counter (OTC) or consumer examples of medical PSAs for "fixation." Professional medical fixation products include surgical tapes, wound closing tapes, surgical drapery, incision films or dressing and other fixation products to hold IVs, catheters and ostomy bags in place without damage to the patient's skin.
While sutures and staples are the traditional tools, surgeons and medical professionals have new wound or skin closure choices such as skin closure strips or cyanoacrylate skin glues. The innovative Zip®16 surgical skin closure system utilizes medical grade PSAs with miniature zip ties across the incision opening. The Zip® system provides surgeons a closure that provides greater speed and cosmetic outcome compared to today's conventional staple and suture methods for closing large incisions or wounds. The unique system has segmented a "dynamic compression" feature that enables the Zip® to lengthen along with an incision during joint articulation or body movement while protecting the incision from perpendicular "opening" forces. The TopClosure™ 3S and DermaClip® systems are other examples of incision or wound closure devices employing tape with a zip device to pull the wound closed. Skin adhesives (cyanoacrylate ) are often used in addition to closure strips and tape. Wacker Chemical Corp. provides several variations of SILPURAN® medical grade silicone PSAs for use in traditional, scar stoma and non-adhering wound dressings and medical tapes.


Figure 1: SILPURAN medical grade silicone pressure sensitive adhesives for traditional scar and non-adhering wound closure dressing applications. Image credit: Wacker Chemical Corp.
Some of these medical products contain breathable adhesives and porous nonwoven backings to provide sufficient moisture transmission or MVTR values. The breathability of the medical tape product can prevent dermal irritation or sensitization. For instance, high moisture-permeable, thin film tapes securely fix surgical drapes to a patient's skin. In other cases, an impermeable, waterproof PSA and film backing might be required to protect a wound from water-borne microbes, prevent infections and allow proper healing.
In most cases, single-coated PSA films are sufficient for applications such as wound care dressings, surgical tapes and electrodes. Double-coated PSA tapes or film products find use in diagnostic test strips, ostomy bags, surgical drapery, advanced multilayered or composite wound care dressing and point of care products. Some of the double-coated PSA tapes are differentially coated. For instance, a drug delivery device might use high peel strength rubber adhesive to bond the layers of the device together and a low peel strength soft gel silicone PSA for skin contact. Certain laminating or assembly applications may require a transfer tape, which consists solely of an adhesive layer between release liners.

Figure 2: Variety of drug delivery device designs utilizing medical grade pressure sensitive adhesives. Image credit: ConvertingQuarterly.com Medical grade PSAs find application in bonding together individual parts in a medical device. Drug delivery devices can consist of multiple layers of adhesives, protective barriers, reservoirs and rate limiting membranes, which are all held together with various adhesives. In addition, an adhesive or drug loaded adhesive is employed for attachment or fixation of the drug patch to the skin. Even certain transmucosal drug delivery systems (oral strips) may require mucoadhesives capable of adhering to mucosal linings.
Sensor and electrode devices, like drug delivery systems, require medical adhesive both for assembly of the device and fixation to the patient. Foam and cloth backed tapes provide the conformability needed to produce reliable electrodes for EKG, ECG and TENS applications. The electrical conductivity and reusability of the medical PSA can be considerations for sensor and electrode applications because the devices need to sense an electrical signal and electrodes may require repositioning. Diagnostic and point-of-care products often contain a test strip with an adhesive to hold it on a protective liner until a patient peels it off to test their blood for glucose or cholesterol levels or perhaps their urine for signs of an infection.
Pharmaceutical packaging tapes are another application where the tapes are used to seal, secure and protect packages containing surgical instruments, medical devices, syringes, blood bags, pills, medical kits, APIs and other drugs. Tapes are also required for splicing together webs of medical films and TDDS systems, which allow production processes to continue operations.
Adhesive Compositions
Acrylic (polyacrylate), polyisobutane (PIB), polyisoprene (synthetic rubber) and silicone PSA are common medical adhesives found in many tapes and devices today. Synthetic rubber adhesives typically have high peel adhesion, which is good for assembly, but may cause trauma or irritation in skin contact applications. Acrylate medical grade adhesives have low to high peel strength depending on the specific formulation. Silicone soft gel adhesives have very low to medium peel adhesion values, which imparts low skin trauma and enables repositioning. Acrylate and rubber adhesive are typically not repositionable. Synthetic rubber adhesives have low breathability or MVTR. Silicone soft gels are moderately breathable. The MVTR or breathability of acrylate adhesives can be tuned. Acrylate and rubber adhesive are compatible with EtO, gamma radiation and steam sterilization processes. Silicone soft gel PSAs can be sterilized using EtO.

Silicone and soft silicone gel adhesives such as SILPURAN® are increasingly used in medical device and wound dressing applications because they can provide a gentler action and less trauma on delicate skin or injured tissue.
Backing or Carrier Materials
The backing or substrates used in PSA coated medical constructions and tapes can be plastic film, woven fabrics, nonwovens, foams and paper made from cellulose, cotton, polyester (PET), polyvinyl chloride (PVC), polyethylene (PE), polypropylene (PP) and polyurethane (PU) materials. The PSA or tape substrate should have sufficient mechanical properties (tensile strength, percent elongation and tear resistance) to avoid breaks during handling and converting processes. The backing should cut cleanly during slitting, die-cutting and other converting steps. Polyester and polyethylene substrates tend to have higher tear resistance. Polyester tends to have better die cutting and kiss cutting performance compared to PVC and PE. Certain applications require consideration of additional properties such as thermoformability and optical transmission or clarity of the plastic films and adhesives. For instance, optical clarity could be required to properly position a medicine laden dressing over a wound or allow monitoring for allergenic response. In some designs, a reservoir well needs to be created by thermoforming the substrate material. Polystyrene and polyvinyl chloride films are thermoformable. Polyester substrates have excellent smoothness and optical clarity.
Medical Release Liners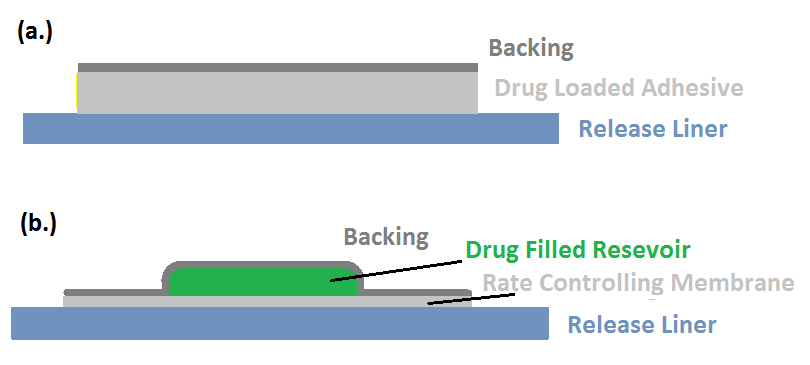 Figure 3: Schematic views of medical device utilizing medical PSAs and release liners (a.) a drug delivery patch using a medicine loaded PSA, (b.) drug filled reservoir drug delivery device assembled with medical grade PSAs. Image credit: IEEE Globalspec Release liners are another important component in any medical device, tape or construction using medical grade pressure sensitive adhesives. Medical release liners provide several functions in medical device manufacturing and pharmaceutical packaging. They package and protect most of the products described in Table 1 while providing easy removal by patients or medical personnel at the time of use. Liners are also process carriers enabling easier handling, converting and assembly without the adhesive medical products sticking together in a mess.

The adhesive should not be retained or transfer to the release coating and the release coating should not transfer to the adhesive. Transfer could reduce the stickiness of the adhesive or impair drug delivery. The release coating must keep the adhesive tacky. In most applications, the release liner is discarded. Some medical applications may require reuse, repositioning or reapplication such as sensors or TENS electrodes, so an adhesive coated medical device may need to be peeled on and off the release liner. Saint-Gobain Performance Plastics provides a wide variety of high performance medical release liners under the NORFILM™ brand along with precision coating, laminating and customization services.
Medical Adhesive Compliance
Design, manufacturing and testing of pressure sensitive bioadhesives requires compliance to stringent FDA, ISO, USP, MHRA, Ph.Eu. or the applicable Notified Body regulations. Medical tapes typically have to conform to ISO 10933 standard for biocompatibility. ISO 10933 contains in vitro tests to evaluate the cytotoxicity of medical devices by assessing the toxic effects of adhesive extracts on cell cultures. The tape or PSA must also be devoid of any animal based raw materials according to BSE/TSE requirements. The medical adhesive product should be able to go through EtO, UV or thermal sterilization regimes to meet microbial limits without any property degradations.
A wide variety of medical pressure sensitive adhesives are available today to serve the multitude of new and developing drug, medical and pharmaceutical applications.