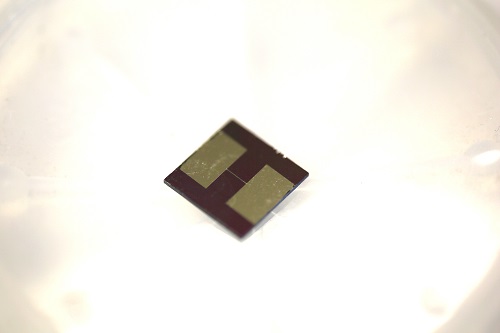 This chip powers the new micropropulsion system. Source: Purdue University Researchers at Purdue University have created a new type of micropropulsion system for miniature satellites. The system uses tiny nozzles that release bursts of water vapor to maneuver the spacecraft.
The use of microsatellites and nanosatellites is becoming more popular with the possibility of thousands of these devices being launched to perform anything from taking high-resolution images, providing internet services, monitoring disaster response or the environment, or conducting military surveillance.
"They offer an opportunity for new missions, such as constellation flying and exploration that their larger counterparts cannot economically achieve," says Alina Alexeenko, a professor in Purdue University's School of Aeronautics and Astronautics.
However, in order for these satellites to reach their full potential, they will require micropropulsion devices to provide low-thrust bursts for scientific, commercial and military space applications.
The new system, called Film-Evaporation MEMS Tunable Array (FEMTA) thrusters, use capillaries small enough to harness the microscopic properties of water. The capillaries are only 10 micrometers in diameter and the surface tension keeps the fluid from flowing out, even in the vacuum of space. Small heaters near the ends of the capillaries create water vapor and provide thrust. This allows the capillaries to be turned on and off by activating the heaters similar to an inkjet printer.
"Water is thought to be abundant on the Martian moon Phobos making it potentially a huge gas station in space," Alexenko says. "Water is also a very clean propellant, reducing risk of contamination of sensitive instruments by the backflow from thruster plumes."
Miniature satellites, also known as CubeSats, are made up of several units, each measuring about 10-centimeters cubed. Researchers loaded four FEMTA thrusters with about a teaspoon of water into a one-unit CubeSat prototype and tested it in a vacuum. The prototype contained electronics and an inertial measurement unit sensor to monitor the performance of the thruster system, which then rotated the satellite using short-lived bursts of water vapor.
"There have been substantial improvements made in micropropulsion technologies, but further reductions in mass, volume, and power are necessary for integration with small spacecraft," Alexeenko says.
The FEMTA thrusters are microscale nozzles manufactured on silicon wafers using nanofabrication techniques and then tested in Purdue's on-site vacuum chamber. While they tested the prototype with only four thrusters to rotate the satellite on a single axis, a fully functional satellite would require 12 thrusters for 3-axis rotation, researchers say.
The team hopes to integrate the FEMTA system into a satellite for an actual space mission in the near future.