DIY and Consumer Applications
Abrasives are used in a multitude of sanding and finishing jobs by DIYers for finishing furniture, wood trim, cabinetry and other home projects. Sanding is important in woodworking for:
Adjusting size or removing excess material from saw cuts
Producing a flat level surface
Hiding or blending defects, dents or scars
Rounding sharp corners and wood splinters
Removing scratches and tool marks from sawing, routing or shaping
Preparing a new wood surface to accept a glue, adhesive coating, varnish or oil finish

Sanding "opens up" the surface by cutting across the cellulose fibers, which improves adhesion to coatings and glues.

Removing undesirable or damaged coatings, or preparing for refinishing
Blending in joints such as scarf joints on molding trim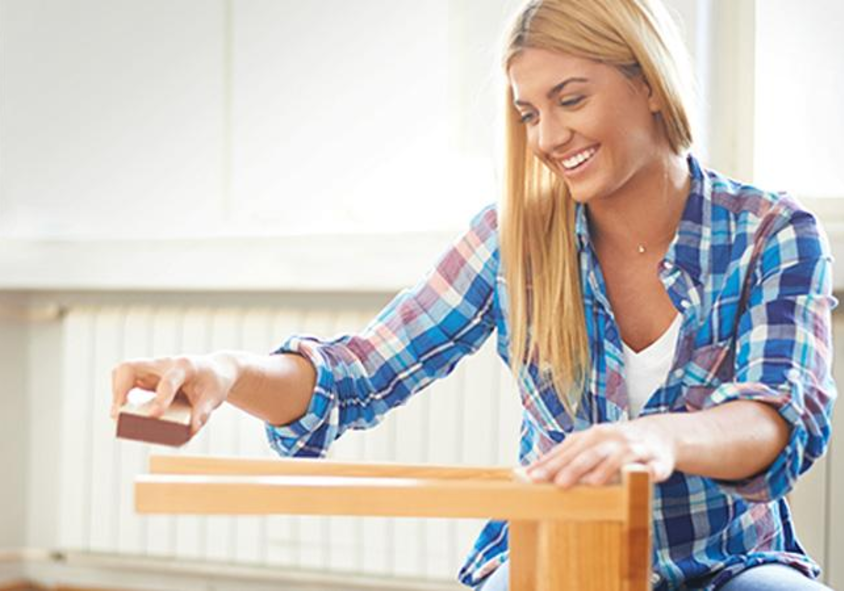 Figure 1 – Finishing a DIY woodworking project with an abrasive product. (Source: Norton Abrasives)Every home should have a supply of abrasive discs, sandpaper sheets, hook and loop or PSA abrasive discs and abrasive belts for their finishing needs. A vibratory sander, portable disc sander, portable belt sander, edge sander and bench belt /disc sander are important abrasive power tools to drive abrasive products.
A drum sander, abrasive sponges and contour sanding power tools are useful if you do a lot of finishing or refinishing of concave shapes and complex contours. Abrasive drum sleeves are required if you have a drum sander or have a sanding drum mounted on a drill or drill press. Pneumatic, corded and cordless tools can all perform well for most DIY applications. Norton ProSand™ portable belts using a proprietary alumina-zirconia abrasive grain are a good choice because they provide enhanced life compared to conventional fused-alumina belts, which means less time buying and replacing belts. Enhanced life also means less operator effort because the product stays sharper for longer.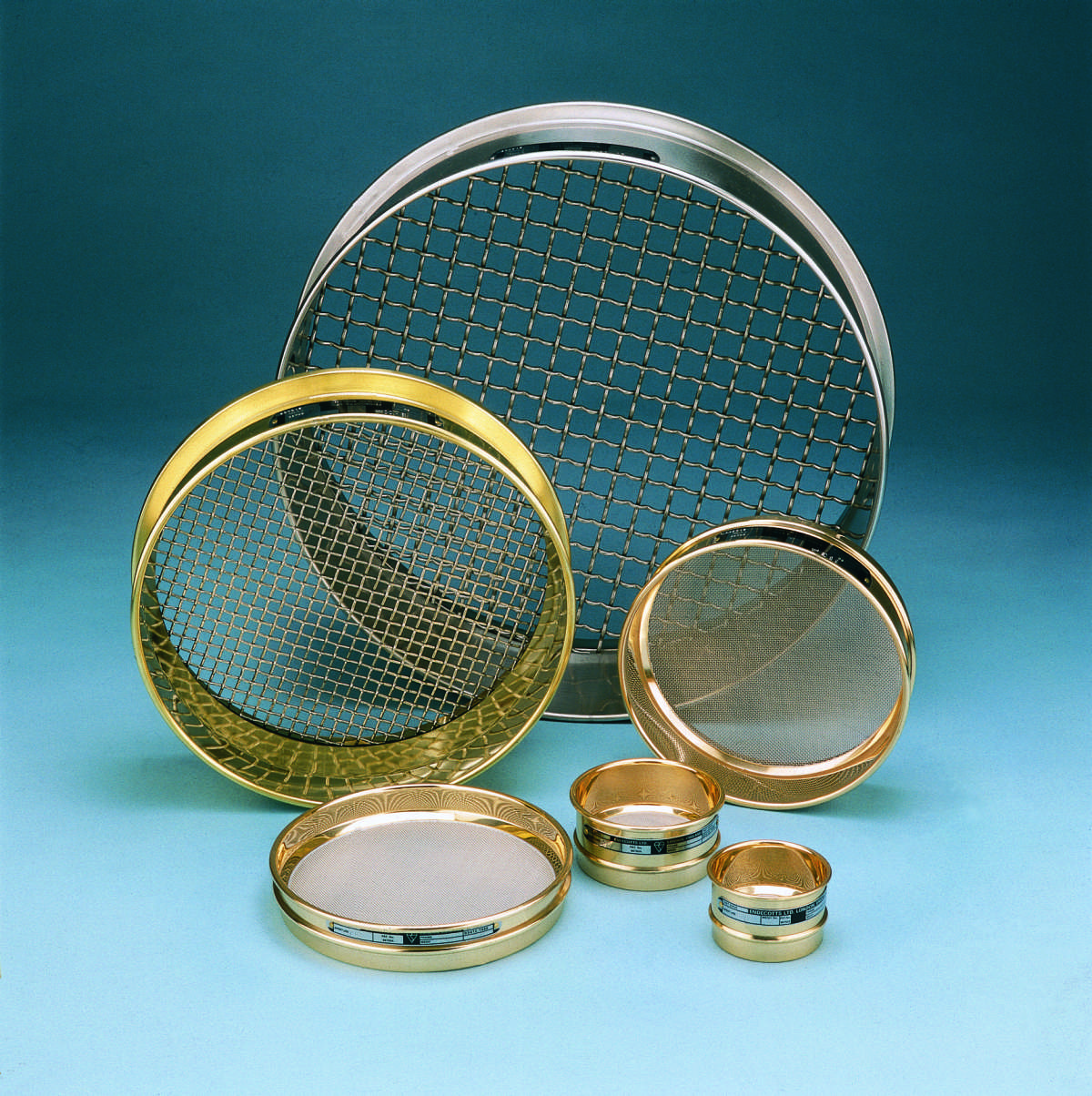 Figure 2 – Abrasive grit size is derived from ANSI and FEPA measurement systems based on ASTM E-11 standard compliant mesh test sieves. (Source: CSC Scientific Company)A good range of grits sizes will enable completion of tasks including dimensional changes, rough finishing, smoothing, flattening, fine sanding and polishing. While counterintuitive to some people, a larger abrasive grit number equates to a finer abrasive product. Grit size is based on how the abrasive grains on sandpaper pass through a series of test sieves or screens, which are designated by the number of wire per unit area. Hence, a 400 mesh size screen has much finer opening compared to a 50 mesh screen. A 400 grit abrasive disc produces finer finishes compared to a 220 grit product. A 24 grit product produces much deeper scratches in wood compared to a 50 grit sleeve.
Different grit size standards are recognized in the United States (ANSI/UAMA), European Union (FEPA) and Japan (JIS), which are not equivalent. FEPA grits designation are usually followed with a letter P (e.g. 400 P, 220 P, 50 P). ANSI/UAMA grit may use an "A" after the grit number, or in the United States just the grit number. The average particle sizes of FEPA and ANSI grit sizes are closer in the coarser grit ranges, but FEPA grits are coarser than ANSI grit in the very fine grit ranges (240 grit and finer). FEPA 400 P grit has an average particle size of 35 microns, while ANSI 400 grit has an average particle size 22 microns (ANSI is 40% smaller). In addition, ANSI grits have a wider particle size distribution and FEPA a tighter distribution, or vice versa depending on the specific grit size.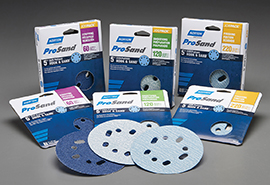 Figure 3 - Norton Abrasive ProSand abrasive disc and sheet products have a stearated "No-Fil" surface layer to prevent loading during woodworking. (Source: Norton Abrasives)While wood is softer and easier to abrade or sand compared to metal alloys, cement or glass materials, the wood sanding dust can load or clog the spaces between the abrasive grain particles, which eventually reduces or stops the abrasion process. A really dull or loaded abrasive product will require extra operator muscle to sand and may leave dark "burn" marks on a surface. Stearate or wax-like anti-loading additive layers are used on the top surface of woodworking abrasives to prevent or delay loading. Some woodworking professionals might have concerns about their impact on subsequent varnish, adhesive or paint adhesion.
The spacing of the abrasive grains on the surface can also affect loading. A closed coat abrasive has more abrasive grain per unit area and the grains are closer together. Closed coat products are more aggressive and produce a better surface finish. Closed coat abrasives are almost always the best choice for sanding hardwoods like oak, maple, hickory and ash. Pine, fir, spruce, cedar, redwood and other softwoods have a greater tendency to load. An open or semi-open coat product has extra space between the grit particles, which might accommodate more sanding dust before loading.
Dust masks or respirators and eye protection should always be worn when using abrasive products. Besides being a pervasive irritant to the otorhinolaryngological and respiratory systems, the sanding dusts of certain exotic hardwoods are toxic. Abrasives belts for woodworking have conductive and anti-static layers to reduce or prevent triboelectric static charges and spark discharges from occurring.
Marine Woodwork Refinishing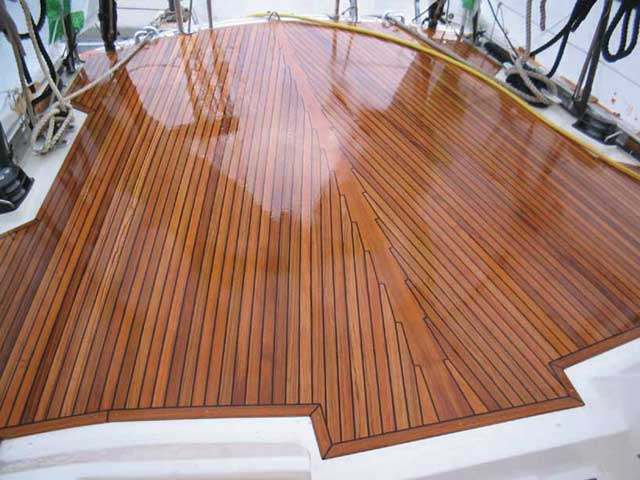 Figure 4 – Properly refinishing and varnishing marine teak surface requires repeated sanding steps. (Source: Practical Boat Owner)Marine teak decking and woodwork on boats requires periodic sanding and refinishing to maintain the beauty and condition of the wood. In the first step, chemical strippers or abrasives remove the old varnish and any discolorations or stains. Next, the first coat of varnish is applied, dried and then sanded with a fine grit (180 to 220) to remove bubbles, drips or other varnish coat defects. This varnishing and sanding process is repeated many times (8 to 10) while moving to finer grits to build up a thick protective coat of varnish on any exposed wooden marine surfaces. However, the sanding step is skipped on the last coat. While an extremely laborious process, the end results are beautiful because the sanding steps produce a smooth, uniform surface. Sandpaper sheets, abrasive sponges, abrasive discs and contour sanding products are used to refinish marine teak woodwork many sailboats. Care must be taken to avoid sanding or abrading any fiberglass or polished stainless steel surface near the marine woodwork.
Wooden Floor Sanding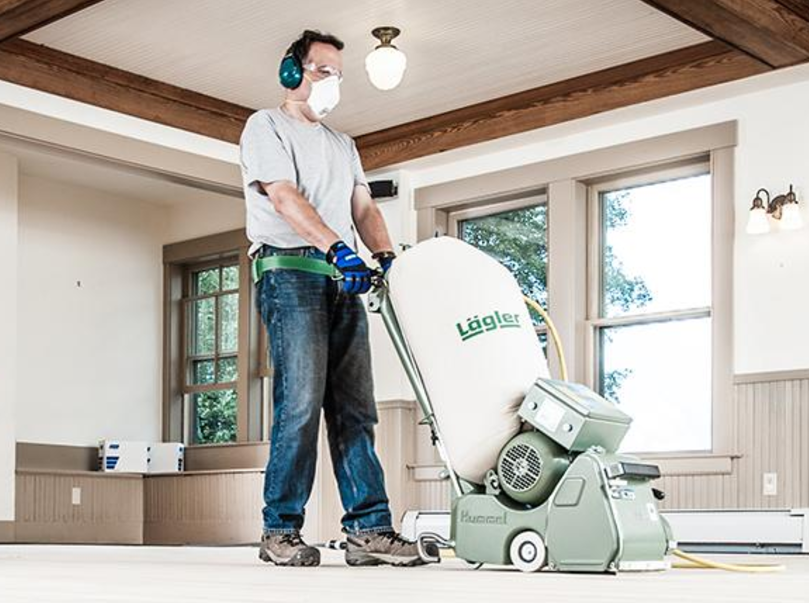 Figure 5 – Commercial floor sander machine finishing a wood floor. (Source: Norton Abrasives).Wood floor sanding and refinishing is accomplished using floor sanders or floor sanding machines such as drum sanders, edgers, and scrubber-buffers. Abrasive flooring drum sanders use sanding sleeves, belts, covers, rolls or sheets with 16 to 36 grit sizes and paper or cloth backings. Cloth can resist tearing better than paper, but cloth-backed abrasives are more expensive. An edger is used to sand near the edge of the wall where the rotary sanding drum will not reach with 12 to 36 grit abrasives.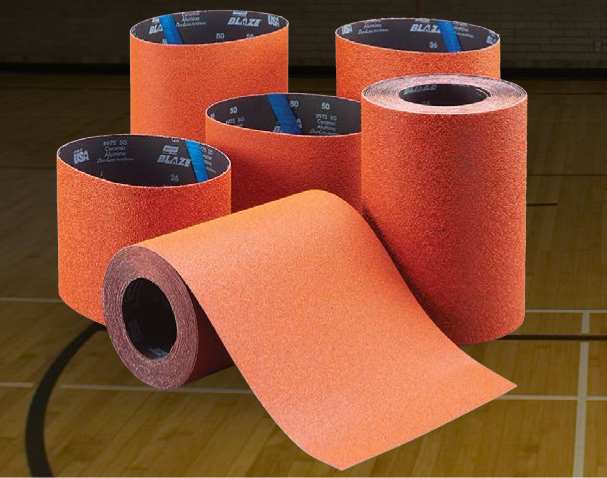 Figure 6 – Norton Blaze® floor sanding covers (belts or sleeves and rolls) leverage proprietary seeded gel abrasives to provide unrivaled performance in floor finishing in educational auditoriums, sport facilities and commercial buildings. (Source: Norton Abrasives)The coarser grit ranges from 12 to 36 grit are used initially for rough finishing, removal of coatings and blending out irregularities, misfits in plank height, digs, discoloration and other damage. The coarsest grits (12 to 24) are used to remove gummy coatings, shellac, paint or varnish, which tend to load up an abrasive cover quickly. New, uncoated floors can be sanded starting with a 36 grit product. Progressively finer abrasive products from 60 grit to 100 grit are used to remove scratches and refine the surface finish for smoothness. Dust and loose grit particles should be swept and the surface vacuumed between each steps. A stray grit loosened from a coarse abrasive product can put an unsightly dig or scratch in an otherwise smooth wood floor. Large paper or screen-backed abrasive discs are mounted on rotary scrubber-buffer machines to sand out scratches from edger and drum sanders. Floor sanding disc products have grit sizes down to 180 grit. Norton Red Heat® Screen and patented SandDollar® products are examples of high performance floor sanding abrasive discs.

Abrasive grain types can also impact the performance life of a floor sanding coated abrasives. Woodworking abrasive products contain a wide variety of abrasive grain types such garnet, silicon carbide, fused aluminum oxide, alumina zirconia and ceramic abrasives. In coarser-grit applications with abrasive power tools such as heavy duty floor sanders, advanced alumina zirconia and ceramic abrasive products can dramatically improve the life of the abrasive or stay sharp longer without burning or overheating the wood surface. Figure 6 demonstrates the performance advantages of Norton Blaze® and Norton Red Heat® products, which utilize variations of Saint-Gobain Abrasives' seeded gel abrasive grain. Norton BlueFire® contains an advanced high performance NorZon® alumina-zirconia grain.


Figure 7 – Performance characteristics of Norton Blaze®, Norton Red Heat® and Norton BlueFire® floor sanding belt products. (Source: Norton Abrasives).
Industrial and Commercial Woodworking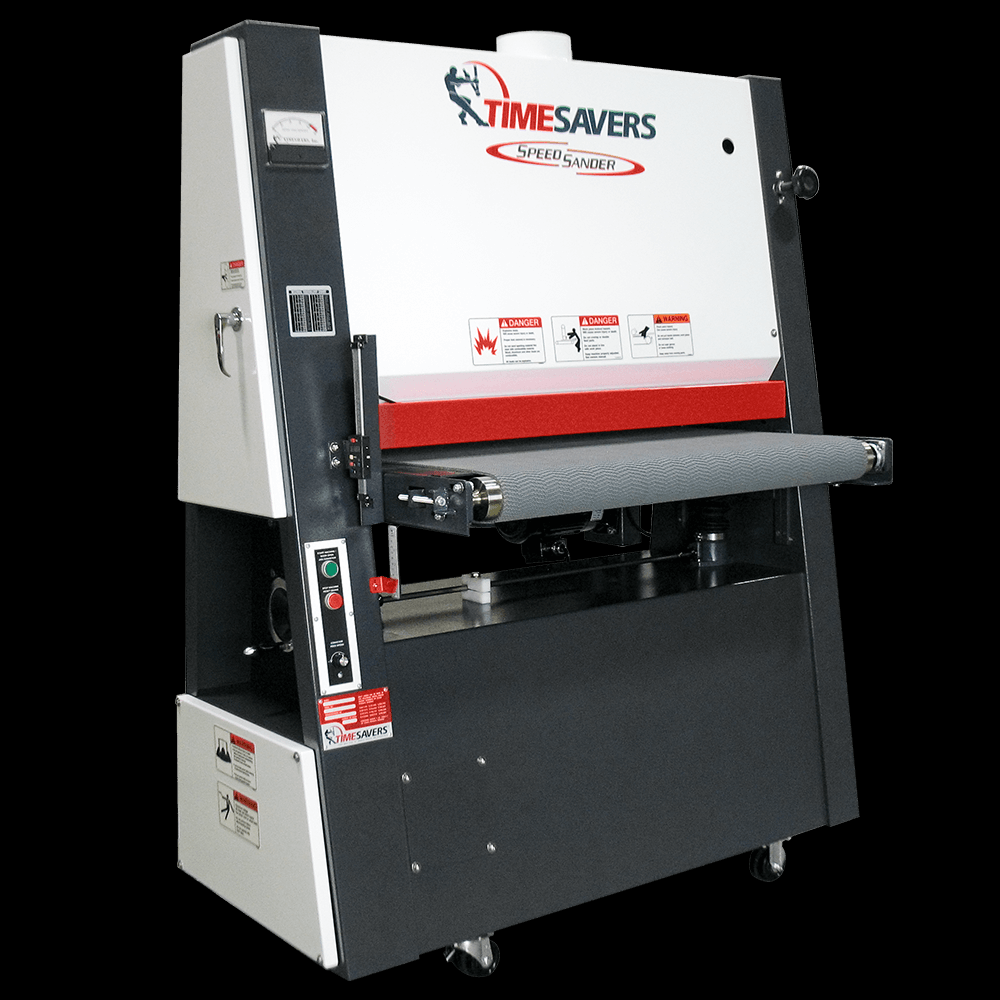 Figure 8 - Wide belt sander for intermediate and finish sanding applications. (Source: Timesavers)In addition to consumer and contractor woodworking, commercial or industrial woodworking applications such as wood planing, trim molding and production furniture finishing requires even more sophisticated and highly-engineered coated abrasive products. Depending on the wood products produced, commercial and industrial woodworking shops may employ a wide variety of abrasive machinery such as abrasive planing machines, wide belt sanders, abrasive brush finishers, edge belt sanders, horizontal drum sanders, spindle sanders, stroke sanders, scroll sander, flutter sanding machines, spool sanders, spindle sanders and combination sanding machines.

Selection of a high performance abrasive such as Norton Blaze®, Norton Red Heat® and Norton BlueFire® is even more critical in demanding commercial and industrial applications. Abrasive belts with strong and high durability backings are desirable for industrial applications. Failure of a belt can damage or destroy not only valuable wood workpieces, but expensive contact wheels, platens and other machine components. If replacements are not readily available, then the lost production from costly unplanned downtime can quickly chew up a woodworking firm's productivity.
Massive abrasive planing machines utilize wide (12 to 72 in.) belts with coarse 20, 24, 36 or 40 grit abrasives on a heavy duty cloth backing. The wide, heavy duty belts are quite expensive. Abrasive planing dimensions, levels and smooths rough lumber through heavy stock removal on both sides of the panel or lumber at speeds up to 200 ft./minute. The steel or serrated steel contact wheels are behind the coated abrasive, which is driven by large 75 to 200 HP motors to surface speeds of 6000 to 9000 SFPM. Enormous stress is applied to the abrasive grain, resin bond and backing. Many abrasive planing machines utilize multiple heads. Abrasive dimensioning produces a surface with superior adhesive bond strength compared to joints made from knife-planed wood. Knots and other defects can be pulled out by a planing knife, which ruins the lumber or panel. An abrasive belt just sands down the defect, which can be left as is or filled.


Figure 9 - Combination edge and profile sanding machines use belt sanding units and brush units. (Source: Heesemann)After abrasive planing, a wide belt sander removes leftover scratches with 40 to 60 grit abrasives and then further refines the finish with 100 grit or finer products. Larger, automated machines will have multiples heads, so the wooden panel or workpiece will see progressively finer grits on one pass through the machine. Planed lumber or panels of solid wood, orientated strand board (OSB), plywood or particle board are sanded or finished using wide belt sanders. Cabinetmakers and commercial woodworkers producing custom kitchens, furniture, doors or architectural elements will often have a wide belt sander or horizontal drum sander in their shops. Wide belt sanders have a rubber contact wheel or a platen with a graphite cover. Abrasive brush machines employ a series of brushes with abrasive particles embedded in the filament. The abrasive brush filaments easily conform to profile shapes.

Molding sanders use special abrasive belt products designed for profiling or contouring molded shapes of furniture components or trim. In molding sanders, an abrasive belt is passed over a low friction graphite-coated platen, which conforms to mold pattern. The abrasive belt has to have a low friction backing to slide over the shoe without overheating. The belt has to have enough flexibility and strength to conform to the molded shape without breaking. The abrasive brushes are useful in finishing or polishing with profiles. Anti-static coatings are important to these products to reduce static charge generation from the triboelectric effect.
The term "superabrasives" may conjure thoughts of stone or concrete cutting, but superabrasives are also important in sharpening many woodworking tools such as saw teeth, router bits and drills. The scope of coated abrasive products used in woodworking is staggering. Considering abrasive grain type, backing, grit size, coat type (open, semi-open and closed), flex and product form (disc, sheet, flap wheel, belt), thousands of engineered abrasives are available to meet the needs of practically any woodworking application.
Additional References and Resources
Norton Abrasives Woodworking Solutions Catalog

Norton Abrasive Catalog #340 - DO-IT-YOURSELF & CONTRACTOR MARKET
Woodworking Machinery Association of America
Woodworking Machinery Industry Association