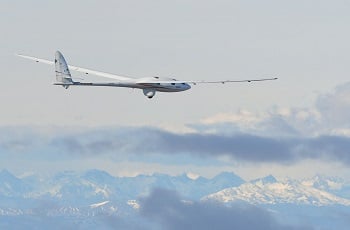 The pressurized Perlan 2 glider has soared to a maximum altitude to date of 32,500 feet. Image credit: Airbus
An initiative to fly an engine-less glider to the edge of space, higher than any other winged aircraft has operated in level, controlled flight, recently posted a new altitude record. As part of the Airbus Perlan Mission II project, the pressurized Perlan 2 glider was piloted to a maximum altitude to date of 32,500 feet.
Test flights were conducted in El Calafate, in the Patagonian region of Argentina where a combination of mountain winds and the polar vortex create the world's highest "stratospheric mountain waves." The Perlan pilots believe these rising air currents can eventually carry their experimental aircraft to the edge of space, reaching a target altitude of 90,000 feet.
The all-volunteer exploration team sponsored by Airbus will next set sights on the rare waves in an attempt to break the world gliding altitude record of 50,727 feet, set by Einar Enevoldsen and Steve Fossett in Perlan 1 in 2006. The aircraft will continue to collect scientific data on the atmosphere and climate.
The engine-less design of the sail plane enables it to collect uncontaminated air samples from a range of altitudes. Unlike a weather balloon, it can be steered, can stay in one area and can take off and land in the same location.
In addition to studying factors influencing climate change, Airbus Perlan Mission II will also provide insights into high-altitude turbulence and radiation effects on pilots and aircraft.
Other project sponsors include United Technologies, Weather Extreme Ltd. and BRS Aerospace.