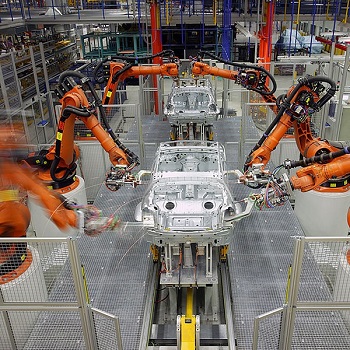 (Source: KUKA robots | CC-BY-SA-3.0)
Advanced manufacturing technologies incorporate robotic welding techniques to address the shortage of skilled welders. In 2010, the American Welding Society (AWS) reported a shortage of 200,000 welders. As the crevasse widens, the AWS estimates a projected shortage of 372,000 welders by 2026.
It appears that the steep learning curve associated with the welding profession is at odds with robotic welding centers, as learning to program a robotic welder is in the order of hours versus the years it takes to develop a qualified welder.
Advantages with Automation
Manufacturers are timid when deciding to take the plunge as they need assurance that the capital expenditure will pay dividends while operating in a competitive marketplace. It is true, however, that not all tasks can be completed by a robotic welding cell. Clamping requirements, access problems or specific positioning requirements may make them impossible or impractical for certain applications.
On the other hand, the advantages manufacturers can realize aren't secluded to single tasks, nor are they incapable of welding large parts and assemblies. In reality, programming a robot is easy, several tasks can be saved to a control unit's memory and use of tracks or gantries can allow for welding oversized parts.
Successful implementation of a robotic welding cell hinges on work-flow considerations, choice of proper welding techniques, software support and design assistance. Fabrication of the part should be considered with – as well as without – robotics. Proper implementation begins with process design and it allows manufacturers to move past concerns with productivity and focus on what may be the more important task: how to limit downtime.
How to Prevent Downtime – A Manufacturer's Nightmare
Manufacturers offering robotic welding cells aren't as quick to address their pitfalls. While there are many benefits of implementing a robotic welding cell including increased throughput, reduced safety risks and overall cost reduction, it is equally important to understand the risks with automation and how to prevent unnecessary downtime.
Cable management is often overlooked. Premature failure occurs when cables are subject to excessive strain either due to lack of freedom of movement, excess friction, heat or from poor cable management. Preventative measures including the use of cable tensioners, cable shielding and proper set-up. Cables should exit the housing with a smooth arc that results in minimal strain. Power cables should lie parallel to the robots top axis and exit the gun 180 degrees from the electrode.
Time spent fixturing pays dividends. In some cases an operator can accommodate the pitfalls of a poorly fixtured piece and still manage to get deep penetration into a joint, but it is also true than a robotic welder cannot solve your weld quality problems alone. Surface preparation, part presentation and part consistency all play critical roles and the need for lean manufacturing is paramount. Poor weld qualities that result from poor part presentation can lead to increased scrap rates, material costs, decrease productivity and can even cause collisions that damage the robot arm.
Consumables also play an important role. Weld spatter or debris buildup, loose connections and improper installation all affect the life of consumables and can result in unnecessary downtime. Loose connections generate excessive heat, increase the resistance and decrease the life of your consumable. Liner length can affect the feed rate and a liner gauge can help determine correct liner length and ensure consistent throughput. Routine nozzle cleaning operations with a correctly-sized reamer and sharpened cutting blade will also help improve productivity, facilitate consistent feed rates and minimize downtime.
The Future of Robotic Welding with ARM
The Advanced Robotics for Manufacturing (ARM) Institute is a national resource in the U.S. that aims to develop, demonstrate and facilitate early adoption of robotic automation technologies. Led by American Robotics, a nonprofit founded by Carnegie Mellon University, they are establishing a network of public and private partnerships serving to promote U.S. manufacturing and compete with the reduced labor costs in foreign markets.
The market penetration is wide including aerospace, automotive and electronics applications. If you work in these industries and haven't considered a robotic welding cell for your manufacturing needs, you may be missing out on the next wave of innovation.
Resources:
Robotics: Purchasing Your First Robotic Welding System
Solving Five Causes of Downtime in a Robotic Welding Operation