The first 18 months of a three-year project to assess the causes of wind speed variability and their impact on wind energy generation in complex terrain are complete. The Wind Forecasting Improvement Project, a $5 million collaborative study coordinated by Vaisala in conjunction with the National Oceanic and Atmospheric Administration (NOAA), and funded by the U.S. Department of Energy, is still underway near the Columbia River Gorge in Oregon.
The meteorological dataset will now be used to enhance forecasting models used to predict wind variability in areas of challenging topography. The measurement campaign data have also been made open-source to help improve the global standards of wind energy modeling and to aid further research.
Over 200 measurement devices of more than 24 different types were deployed, ranging from SoDAR (Sonic Detection And Ranging) and LiDAR (Light Detection And Ranging) units to wind profiling radars, radiative flux systems, and microbarographs. These instruments are capable of measuring wind conditions throughout the turbine rotor layer and aloft along with other variables, such as cloud position or air temperature.
The project makes it possible for the grid to better leverage the significant wind resources in the U.S. and expand the number of places where wind energy is not only feasible but profitable. Accurate forecasts allow operators to schedule and trade energy, and support better overall management of the grid. Operational costs can be contained by reducing imbalance penalties and facilitating better maintenance scheduling to avoid stranded crews and equipment, while improving personnel safety.
Over the next year, researchers will use this dataset to upgrade existing forecasting models, with a focus on 0-24 hour-ahead wind forecasts. These models consist of the widely-deployed Weather Research and Forecasting model, which is used in both the NOAA Rapid Refresh and High Resolution Rapid Refresh modeling systems.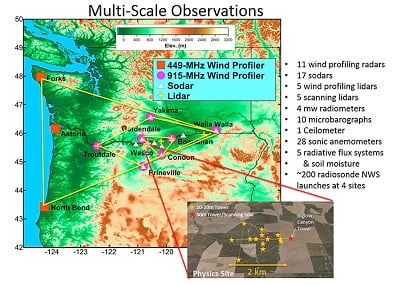 The Columbia River Gorge project area. (Source: U.S. Department of Energy)