Design This: College to Launch Competition for Tall Wood Tower
David Wagman | July 27, 2017
George Brown College in Ontario, Canada, plans to build a 12-story wooden building that will be home to a Tall Wood Building Research Institute.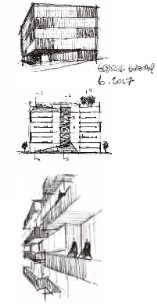 The Arbour, as the project is known, will be located on land the college recently purchased from the City of Toronto. The college says that in the fall it will launch an international design competition for the project.
Over the past several years, a number of tall wood projects have been completed around the world, demonstrating successful applications of new wood and mass timber technologies.
(Read "12 Story Wooden 'Plyscraper' to Grow in Portland District.")
In addition to the opportunity for design innovation, the college says that mass timber construction has many other advantages, making it an innovative approach in sustainable building efforts.
The project will include the college's Centre for Information and Computer Technology to support and complement the City of Toronto's smart city initiative.