Sensors to 'Sound' the Alarm
Marie Donlon | July 24, 2017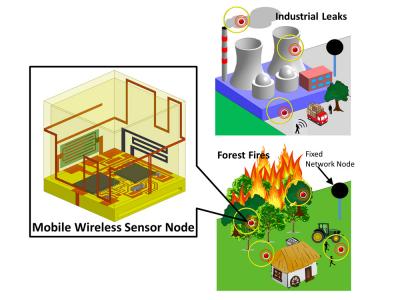 KAUST scientists' disposable mobile wireless sensor nodes can be used to give early warning of industrial leaks or forest fires. Image credit: Muhammad Farooqui/KAUSTIn an effort to improve reporting times in emergency situations such as forest fires or chemical leaks, researchers from King Abdullah University of Science and Technology (KAUST) have created a disposable sensor that may save help save lives.
Associate Professor of Electrical Engineering Atif Shamim placed a large number of disposable sensors in areas prone to events such as forest fires. The sensors wirelessly link to other, fixed sensors, which work together to "sound" the alarm.
The sensors can detect hydrogen sulfide (toxic industrial gas) and heat and low humidity (characteristics of forest fires).
Because the sensors are 3D and inkjet-printed, the process for manufacturing them is both quick and inexpensive with little environmental impact.
"Material is deposited in precise quantities only at the desired location," he explained. "Traditional manufacturing methods take bulk material and gradually remove material to realize the final shape, resulting in significant wastage."
The sensors, according to researchers, can survive being dropped from a height and can withstand temperatures up to 70° C, which, according to researchers, is suitable enough for giving an early warning of wild fires.
Eventually, researchers hope to make the sensors self-sustainable for remote locations by incorporating an energy source.
"Inkjet-printed solar cells have already been demonstrated," Shamim enthused. "Eventually we want to get rid of the battery entirely."