Video: Aerogel Insulation for High-Temperature Service
S. Himmelstein | July 20, 2017
A new high-temperature aerogel insulating blanket from Aspen Aerogels, Inc. (Northborough, Mass.) is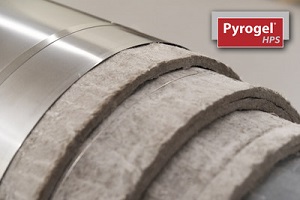 Image credit: Aspen Aerogels, Inc.engineered to provide improved thermal conductivity and economic performance at service temperatures of up to 650° C (1,200° F).
Pyrogel HPS is optimized for high-temperature pipe and vessel applications in the refining, chemical processing and power generation markets. With its extremely low thermal conductivity at high temperatures, Pyrogel HPS-based solutions can be up to 75 percent thinner than with competing insulation materials.
As a result, Pyrogel HPS is ideal for installation in congested areas or near mechanical clashes, increasing both plant safety and efficiency. Reduced insulation thicknesses also support faster and easier installation—saving time and expense.