Radiopaque Glue Replaces Sutures, Guides Surgery
S. Himmelstein | July 20, 2017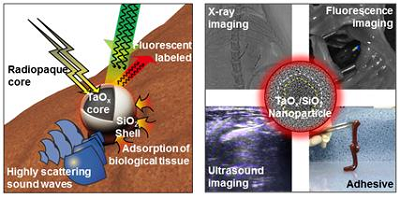 Nanoparticles made with a silica shell and a radiopaque tantalum oxide core are used to make a tissue adhesive that is visible to ultrasound, X-ray and fluorescent imaging. Image credt: IBS
Surgical glues are increasingly preferred to sutures and staples in many minimally-invasive and image-guided procedures. A new tissue adhesive visible in many common imaging techniques, such as fluoroscopy, ultrasound and computed tomography, expands the utility of these materials.
Researchers from South Korea developed a shell composed of silica that holds the tissue together and a core of radiopaque tantalum oxide to provide contrast enhancement. The core/shell nanoparticle (TSN) glue is clearly visualized by real-time imaging modalities and exhibits adhesive properties similar to those of the U.S. Food and Drug Administration-approved cyanoacrylate and Lipiodol (CA-Lp), a mixture of a tissue adhesive and radiopaque oil.
TSN is more biocompatible than CA-Lp and ensures accurate target localization during movement. When tested in animal models, TSN was demonstrated to be stable in moving lungs. A fluorescent version of TSN visible under computed tomography was successfully used to guide a lung resection procedure in a rat, and the opacity of TSNs was high enough to be clearly distinguished from the nearby ribs and vertebrae.
Scientists from Seoul National University Hospital, Kookmin University, and the Institute for Basic Science (IBS) participated in this research.