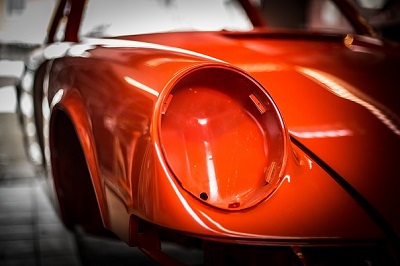 When selecting automotive paint there are two distinct choices to make. The first choice to consider is the color scheme. There is a range of pigments including metallic, pearlescent and traditional pigments as well as metallic flake, candy coats and color changing "chameleon" colors. To achieve the desired finish you should be aware of the pigment and its limitations and advantages.
The second choice is the resin system. Traditional car show-quality coating systems were based on lacquer, which is now outlawed in some areas. Urethane and enamel resins are now most common and achieve a durable finish that is more suitable for most automotive applications.
Color Scheme | Pigments
Manufacturers typically disclose the paint code on a label or tag, allowing a range of third-party resellers to reproduce the color scheme and provide an exact match for body repairs or for touch-up of minor scratches. Before undertaking a DIY paint job, it is best to understand the differences in pigments so that correct surface preparation will result in a factory-like finish.
Metallic pigments incorporate finely ground aluminum particles that provide for a bright sparkle when accompanied by a transparent pigment. Metallic paints work best with darker hues, as lighter colors are more difficult to apply. They exhibit improved durability when compared to other finishes.
Pearlescent pigments are considered to have more color depth and are applied in a two- or three-stage coating. Like metallic pigments they are combined with a transparent pigment to provide shimmer. Lighter shades typically require a three-stage coating as the solid base color reflects on the finish and must be applied evenly, followed by a pearl mid-coat and a protective topcoat. Darker and medium shades are less sensitive to the undercoat and can be applied in a two-stage process. Also in line with metallic pigments, pearl paint colors are durable and more difficult to evenly apply when a lighter shade is desired.
Solid or traditional pigments do not contain a sparkling agent. They are the most pliable color scheme as there is no need to worry about the orientation of additives. Solid colors are the most common coloring scheme and the durability of the finish is typically distinctive of the binder agent used.
Other specialty color schemes include metallic flakes, candy colors and chameleon colors. These coloring schemes are the most difficult to apply and often suffer from reduced durability. Candy coats, for example, require a sparkling base coat, a transparent candy coat and high gloss clear coat. The three-step process produces a sparkle that is seemingly immersed in the color, although the finish lacks durability. Color-changing paints like chameleon paints exhibit different colors based on the viewing angle. They are fairly durable, however like candy coats they are difficult to apply.
Resin System | Binders
Lacquer is a pliable resin that dries to a smooth, glossy, show-car finish. It is, however, mixed with highly toxic solvent, like toluene, which has limited their use and in some states made it illegal to spray. Issues with lacquer resins also stem from its lack of durability. They require continual maintenance in the form of buffing and waxing to prevent premature cracking. They may show a chalky discoloration when exposed to sunlight, as this finish exhibits a lack of resistance to ultraviolet radiation. Lacquer is primarily limited to car-show quality paint jobs that have a limited life span.
Urethane resins are considered superior in quality and are the most commonly used resin by professionals. They don't flow as well as enamels or lacquers and may require a thinner or the use of a smaller nozzle on the spray gun to break down the material into smaller particles and achieve a smoother finish. Like lacquer they are toxic; proper personal protective equipment (PPE) is required. Urethane finishes offer increased durability and are more expensive than enamels.
Enamel resins are softer and less expensive than urethane resins. They produce a dry to glossy finish. While they are not as durable as a urethane resin, their affordability and pliability make them a suitable candidate for DIY paint jobs.
Stages and Components
Aside from the color scheme, resin paints are typically described by stages and components. One-part (1K) or two-part (2K) products differ in that 1K paints are pre-mixed products, while 2K products must be mixed with an activator or hardener to cure and bond to the surface of the car. This may sometimes be referred to as one- or two-component paints. 2K products have a longer shelf life, are weatherproof, nonporous and are more commonly used by professional paint shops.
The number of stages refers to the number of coatings. Single-stage products are applied in a single coat, while two-stage products typically require a clear coat. Three coatings may be required to achieve a desired finish, such as a lighter metallic or candy coat finish. Almost all aerosol paints are single stage.
Conclusion
Today's automotive paints encompass a wide variety of resins and pigments to help achieve a diverse range of finishing options. Before you begin your DIY paint job it is best to be aware of the different chemistries available and what is required for to achieve a desired effect. Understanding paint chemistry can be the difference between success and failure.
Resources: