Constructing dikes and reclaiming land from the sea have long been practiced in the Netherlands, but these options may not prove sustainable in a future likely characterized by rising sea levels and urban overcrowding.
The Maritime Research Institute Netherlands (MARIN) is developing artificial islands to provide the desired maritime living and working space.
The floating mega island is composed of 87 large floating triangles that are flexibly linked to one another,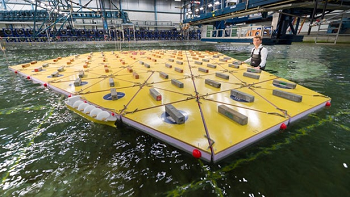 A model-scale floating mega island undergoing tests. Image credit: MARINforming a floating mass that can be as large as 1 to 5 kilometers in cross-section. These structures are considered to offer future-proof living and working space at sea for developing renewable energy systems, supporting cargo operations in coastal areas where there is little infrastructure, cultivating fish and seaweed and building houses and recreational facilities.
The researchers are also addressing ecological and mechanical challenges, such as the extent of the island's motion and its impact on communities. Computer simulations and model tests are being conducted in MARIN's Offshore Basin (40-by-40 meters) in which wind, waves and currents can be simulated at scale.