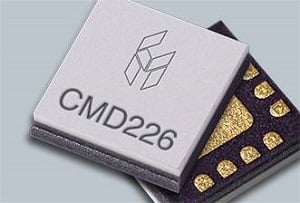 The new GaAs MMIC Doubler. Image credit: Custom MMIC
Custom MMIC has added a new MMIC doubler to its line of broadband frequency series.
The new doubler covers an input frequency of 7 to 11 gigahertz and features a low conversion loss and Fo isolation for use in military radar, SMDS, SATCOM, VSAT and LO chains for point-to-point microwave/millimeter-wave radio in cellular backhaul applications.
The gallium arsenide (GaAs) MMIC CMD226N3 is a passive frequency multiplier housed in a quad-flat no-leads (QFN)-style package. The device is temperature stable and has a conversion gain of less than 2 decibels from nominal across the entire frequency band of operation. The MMIC doubler offers low-phase noise performance without the need for biasing circuitry.