Suite of Ultra-Clean Filters for Use in Chemical and Semiconductor Manufacturing
Peter Brown | July 13, 2017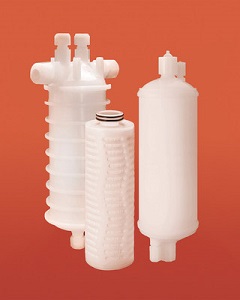 The suite of filters. Image credit: Entegris
Entegris Inc. has introduced a suite of ultra-clean filters for use in chemical and semiconductor manufacturing applications.
The filters use a polymer membrane technology that captures greater levels of contaminants with faster start-up times. The suite includes the Torrento X 7 nm, Guardian PS 1 nm and the new Trinzik ultrapure water and high purity chemical filtration product lines.
The Torrento X series is a cleaning solution for acids and bases at elevated temperatures, including sulfuric acid and other chemicals. It also features a high-flow PTFE membrane with 7 nm retention rating performance to capture defect-causing particles that lead to yield loss in advanced applications.
The Guardian PS filters are used to dilute acids and bases at lower temperatures. The filter features a high-flow polysulfone membrane designed to reduce flush-up time and control particles with 1 nm retention rating performance.
The Trinzik line is for use in fine chemical and ultra-pure water with 0.1 µm to 20 nm retention rating performance. These filters include a PTFE membrane to increase filtration throughput.