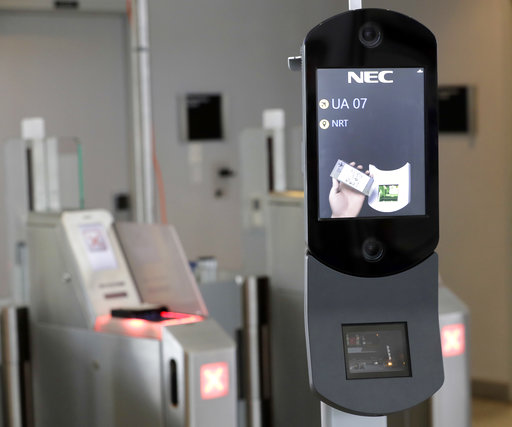 A U.S. Customs and Border Protection facial recognition device is ready to scan another passenger at a United Airlines gate, Wednesday, July 12, 2017, at George Bush Intercontinental Airport, in Houston. The Trump administration intends to require that American citizens boarding international flights submit to face scans, something Congress has not explicitly approved and privacy advocates consider an ill-advised step toward a surveillance state. Image credit: AP Photo/David J. PhillipUnited States citizens boarding international flights in the near future may have to submit to facial scans if the Trump Administration successfully expands biometric programs currently in place to track nonimmigrant foreigners.
Current methods of tracking nonimmigrant foreigners include the collection of biometric information such as fingerprints, digital photos and digital signatures. According to the Department of Homeland Security (DHS), expanding on that program to include U.S. citizens and facial recognition technology will help tighten security.
However, there are objections from privacy advocates who believe the scans will ultimately lead to increased surveillance of its citizens.
"Congress authorized scans of foreign nationals. DHS heard that and decided to scan everyone. That's not how a democracy is supposed to work," said Alvaro Bedoya, executive director of the Center on Privacy and Technology at Georgetown University.
The program is currently being tested at six U.S. airports—Boston, Chicago, Houston, Atlanta, Kennedy Airport in New York City and Dulles in the Washington, D.C., area.