Breaking News from Antarctica: Massive Iceberg Calves Off Larsen Ice Shelf
S. Himmelstein | July 13, 2017
A massive 2,240 square-mile (5,800 square-kilometer) iceberg, equivalent in size to the state of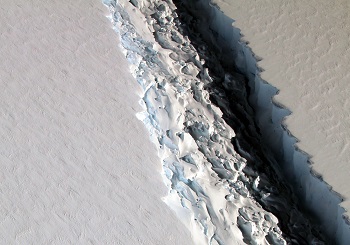 Snapshot of the rift in the Larsen C on Nov. 10, 2016. (Source: NASA/John Sonntag)Delaware in the U.S., has broken off the Larsen C ice shelf in Antarctica.
According to NASA, the calving was captured by the moderate resolution imaging spectroradiometer on NASA's Aqua satellite, and confirmed by the visible infrared imaging radiometer suite instrument on the joint NASA/NOAA Suomi National Polar-orbiting Partnership (Suomi-NPP) satellite. The final breakage, which occurred July 10 to 12, was first reported by Project Midas, a U.K.-based Antarctic research project.
A rift snaking its way across the ice shelf was evident in the 1960s, and its accelerated progression over the last year had been monitored based on data from the European Space Agency Sentinel-1 satellites and the thermal infrared sensor (TIRS) on NASA's Landsat 8 spacecraft.
Researchers cannot point to a direct link between the caving and climate change.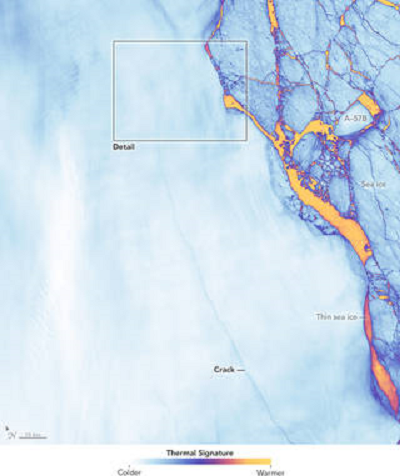 The June 17, 2017 TIRS false-color image of the crack and the surrounding ice shelf. It shows the relative warmth or coolness of the landscape. Orange depicts where the surface is the warmest, most notably the areas of open ocean and of water topped by thin sea ice. Light blues and whites are the coldest areas, spanning most of the ice shelf and some areas of sea ice. Dark blue and purple areas are in the mid-range. (Source: NASA's Earth Observatory)"The Antarctic Peninsula has been one of the fastest warming places on the planet throughout the latter half of the 20th century. This warming has driven really profound environmental changes, including the collapse of Larsen A and B," said Dan McGrath, a glaciologist at Colorado State University. "But with the rift on Larsen C, we haven't made a direct connection with the warming climate. Still, there are definitely mechanisms by which this rift could be linked to climate change, most notably through warmer ocean waters eating away at the base of the shelf."
The fate of the new iceberg, likely to be named A-68, will be monitored by the U.S. National Ice Center. The new iceberg is likely to follow a similar path to the icebergs produced by the collapse of Larsen B — north along the coast of the Peninsula, then northeast into the South Atlantic.