New App Offers Real-time Reports About Slope, Hiking Trail Conditions
Marie Donlon | July 11, 2017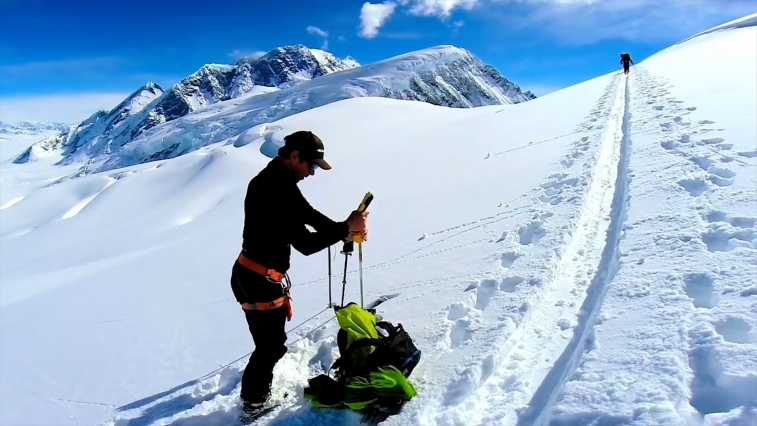 Chris Davenport tests an early version of Mountain Hub, the Avatech SP1, on Mount St. Elias in Alaska. Image credit: Chris Davenport
Bringing social media to the slopes, two researchers have developed an app that reports the real-time conditions of ski slopes, hiking trails and other outdoor activities to help keep participants safe and informed.
"We want to crowdsource trip data and safety information for the outdoors," Massachusetts Institute of Technology (MIT) Department of Mechanical Engineering (MechE) alumnus Jim Christian SM '14 explained.
Mountain Hub, a free app that details the outdoor conditions for outdoor adventurers and athletes, was inspired by an avalanche detecting device that Christian, along with other students, developed while a student at MIT. The probe outfitted with sensors was designed to measure the structure of snow, quickly alerting the user to possible weak-layers in the snowpack — critical for determining avalanche risk.
Once out of the classroom, Christian and his team co-founded the company Avatech whose focus was on assessing avalanche risk using the probe. However, the team realized that the information obtained from the sensors wasn't helpful to others beyond the probe user. Out of that idea, a network was born allowing users to share real-time information about bike paths, hiking trails and other outdoor activities.
"Most mountain athletes do multiple activities all year round," said Christian. "There is an opportunity for information sharing across these various activities. What a rock climber has to say about hazards on a trail is relevant to hikers and mountain bikers in the same area."
Formerly Avatech, the creators of Mountain Hub envision an interactive platform for people to share their experiences or to safely plan for outdoor adventures all using up-to-date information.
"We are spearheading a culture of contribution and sharing in the outdoors," Christian explained. "We want to build a real-time network that has daily engaging content so that the first thing someone does before they hit the trail is open up our app."