An underground tunnel section of the "long-awaited" Hong Kong-Zhuhai-Macao Bridge (HZMB) was completed on Friday. China Daily noted that the 6.7-kilometer tunnel joins a 22.9-kilometer overwater bridge, completed last year, in crossing the Pearl River Estuary.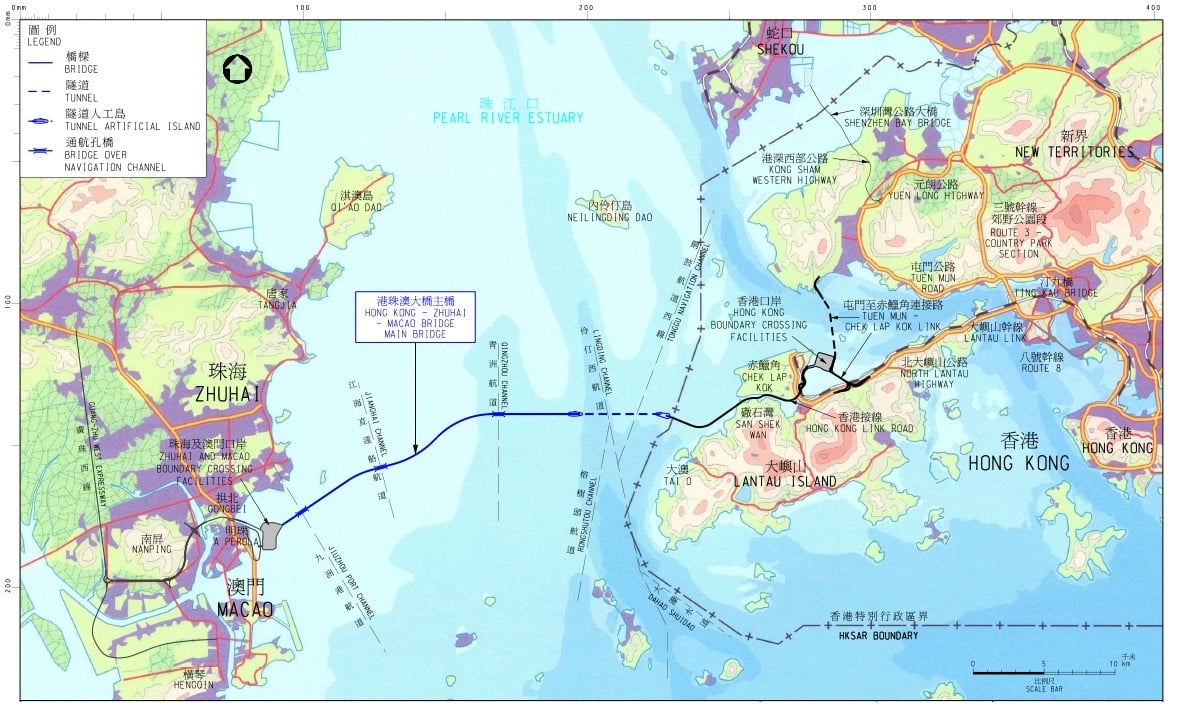 A 2015 drawing of the Hong Kong-Zhuhai Macao Bridge. (Source: HZMB Project Management Office, Highways Department, the Hong Kong Special Administrative Region Government of the People's Republic of China)
First conceived in 1997 after the Asian Financial Crisis, the HZMB will connect the east bank of the Pearl River Delta to Zhuhai and Macao on the west bank. According to the HZMB Authority, overland transport currently has to detour through the Humen Bridge to the north, and water transit is "time-consuming and vulnerable to weather conditions," leaving little avenue to connect the regions. The bridge is expected to cut travel time between Hong Kong and Zhuhai from three hours to 30 minutes.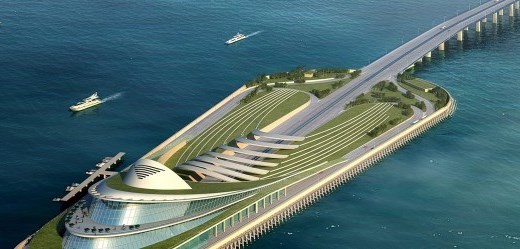 One of the artificial islands flanking the tunnel. (Source: TEC)
The tunnel itself submerges 48 meters beneath the surface, and is built of 33 pipe-shaped sections linked by one 6,500-metric-ton butt joint in the middle.
Zhu Yongling, director of the management bureau for the HZMB announced that the bridge will be open to traffic by the end of this year. That milestone is expected to "significantly change the regional transportation structure on the western bank of the Pearl River."
Tunnel Engineering Consultants (TEC), a consulting firm out of the Netherlands, conducted structural studies, reviewed the design for feasibility and provided management of quality and risk, among other duties for the HZMB project. TEC lists the construction cost for the project at approximately $5.6 billion USD.
TEC elaborates on the tunnel's design, saying it is flanked by two artificial islands that accommodate the transition to the bridges on either side. The HZMB is expected to carry a three-lane divided highway with a design speed of 100 kilometers per hour, and is designed with a 120-year lifespan.