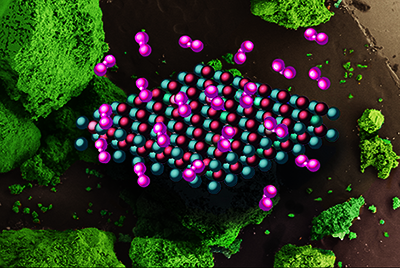 This electron microscopy image of concrete includes a model of sulfur dioxide interactions with a concrete surface—represented by the colored spheres. Image credit: Marija IlloskaResearchers from Stony Brook University have determined that concrete surfaces work to remove sulfur dioxide—a significant air pollution ingredient—from the air.
Linked to roughly seven million premature deaths around the world, poor air quality is caused by a number of factors, with sulfur dioxide emissions from power plants being one of the most common causes of air pollution. Another large sulfur dioxide emission producer, oddly enough, are cement kilns.
"Even though producing concrete causes air pollution, concrete buildings in urban areas can serve as a kind of sponge adsorbing sulfur dioxide to a high level," explained Dr. Orlov, Associate Professor of Materials Science and Chemical Engineering in the College of Engineering and Applied Sciences, and a faculty member of the Consortium for Inter-Disciplinary Environmental Research at Stony Brook University. "Our findings open up the possibility that waste concrete coming from building demolitions can be used to adsorb these pollutants."
Because concrete is inexpensive and continues to be one of the most widely used materials in the world, Dr. Orlov believes that "the strategy of using pollution causing material and turning it into an environmental solution could lead to new thinking in urban design and waste management."
However, Dr. Orlov warns that its ability to adsorb pollutants lessens as concrete ages. But, the researcher also believes that crushing concrete can reveal new surfaces, thereby restoring its pollution removing properties.
The research is published in the Journal of Chemical Engineering.