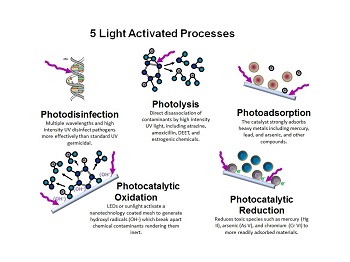 Image credit: Puralytics
The Shield is a water purification unit that employs LEDs to excite a nanotechnology mesh to power light-activated water purification processes. The system designed by Puralytics of Hillsboro, OR, achieves advanced disinfection and detoxification, sterilizes pathogens and breaks down organic compounds. The unit is flexible in configuration, has a small footprint and is easy to integrate and operate. Low pressure-drop and low maintenance requirements are additional features. There are no chemical additives and there is zero discharge.
The Shield had been employed in a broad range of different applications, including treatment of wastewater from analytical, medical, bioscience and research labs. The system has been a key part of water kiosks in remote areas of Mexico. In Sudan, several Shields have been installed in banks to provide drinking water for their customers. It is also a crucial element for a rapidly transportable, low-power water purification system that can use water from virtually any non-salt source: the Disaster Shield—a system used in Nepal continuously since the 2015 earthquake.
The new version produces up to 1,500 gallons of water per day. It has 33 percent lower unit energy use, up to 90 percent lower unit consumables cost and reduced maintenance time. Other enhancements include: lower pretreatment requirements and an active electronic cooling system to allow operation in hotter environments. Finally, it is compatible with much broader pumping options (for off-grid applications), and it has 150 percent higher flow capacity but similar performance on most contaminants.