Among the dozens of experiments packed into the nose cone of NASA's 36-foot long, Terrier-Improved Orion sounding rocket during its launch on June 22, 2017, was a high school student's project. The 17-year old submitted a proposal through Cubes in Space, a private, non-profit education program that partners with NASA to encourage student participation in science and space.
Shelbi Klingsporn of Scottsbluff, NE, theorized that the Medtronic Micra TPS, the world's smallest pacemaker, could not withstand the brutal G-forces of the launch. The device contains some glass components and wires thinner than a human hair.
Medtronic provided a working device for the flight, and a company engineer added a resistor to mimic the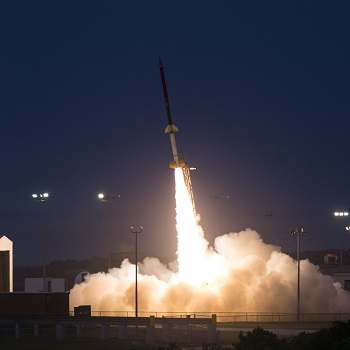 NASA rocket launch June 22, 2017. Image credit: NASAelectrical activity inside a human body. Special equipment was brought to the launch to interrogate the Micra device as soon as it returned from space.
The launch subjected the pacemaker to a 13-minute, 73-mile-high rocket ride and more than 20 times the force of gravity, extreme vibrations, temperatures reaching 140° F, radiation from Earth's sub-orbit and a splashdown in the Atlantic Ocean.
As the Micra TPS was being assessed by hovering a reader over the device, the engineer's computer screen sprang to life as the pacemaker immediately "answered." Downloaded data showed Micra TPS, which is designed to automatically adjust pacing therapy based on a person's activity levels, had increased its pacing rate during the flight, and lowered it again afterward.
"Micra interpreted the shaking as exercise and increased its pacing, which is what it's supposed to do," said Medtronic program manager Wade Demmer. "That means the accelerometer inside the device is also working. Great news."