Transcatheter aortic valve replacement is often considered for patients at high risk for complications with open-heart surgery to replace heart valves. Selection of the correct prosthetic valve is critical, as an imprecise fit can result in paravalvular leakage, a situation where blood flows around, rather than through, the new valve.
The development of patient-specific heart valve models that mimic the physiological qualities of real valves can reduce the risk of leakage and improve patient outcomes. Researchers at Georgia Institute of Technology and the Piedmont Heart Institute are using standard medical imaging and new 3-D printing technologies to produce such models.
The researchers use a multi-material 3-D printer that allows control over diameter and curving wavelength of the metamaterial used for printing to more closely mimic physiological properties of the tissue. The models can recreate conditions such as calcium deposition – a common underlying factor of aortic stenosis – as well as arterial wall stiffness and other unique aspects of a patient's heart. They mimic the natural strain-stiffening behavior of soft tissues resulting from the interaction between elastin and collagen, two proteins found in heart valves.
That interaction was simulated by embedding wavy, stiff microstructures into the softer material during the 3-D printing process.
The researchers created heart valve models from medical imaging of 18 patients who had undergone a valve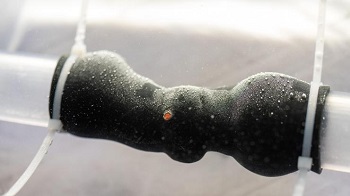 New 3-D printing technologies allow researchers to create patient-specific heart valve models that mimic the physiological qualities of the real valves. This image shows the submerged valve during flow testing. Image credit: Rob Feltreplacement surgery. The models were outfitted with dozens of radiopaque beads to help measure the displacement of the tissue-mimicking material.
Those models were then paired with the same type and size prosthetic valves that interventional cardiologists had used during each patient's valve replacement procedure. Inside a warm-water testing environment controlled to maintain human body temperature, the researchers implanted the prosthetics inside the models, being careful to place the new valves in the exact location that was used during the clinical procedure for each case.
Software was used to analyze medical imaging and to show the location of the radiopaque beads taken before and after the experiment to determine how the prosthetics interacted with the 3-D printed models. The evaluation sought inconsistencies representing areas where the prosthetic wasn't sealed well against the wall of the valve.
The inconsistencies were assigned values that formed a "bulge index," and the researchers found that a higher bulge index was associated with patients who had experienced a higher degree of leakage after valve placement. In addition to predicting the occurrence of the leakage, the printed models replicated the location and severity of the complication during the experiments.