The evolution of cancer metastasis has been imaged at the single-cell level in a mouse model. Researchers from the University of Tokyo and the RIKEN Quantitative Biology Center, Japan, used a clear unobstructed brain/body imaging cocktail previously developed for whole body imaging preparation and optimized its composition for detecting and viewing cancer cells.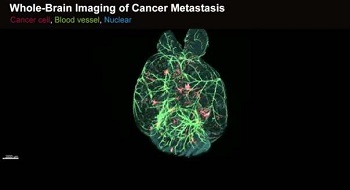 Whole-brain imaging of cancer metastasis. (Source: University of Tokyo/RIKEN)
By rendering whole mouse bodies and organs highly transparent and applying available imaging technology, they were able view cancer cells multiplying within organs, including the lungs, intestines and liver, in addition to those traveling through the body to and from new tumors in distant locales. The protocol facilitates detection of signals from fluorescent proteins expressed by cancer cells.
The platform was used to generate a whole-mouse scan of pancreatic cells spreading into the liver and throughout the abdomen. Another set of images shows a healthy pair of lungs being gradually colonized by cancer cells over the course of two weeks, while a third probes relationships between cancer cells and blood vessels inside the brain.
The method is expected to deepen understanding of the complexities and nuances of metastatic pathways, and might also shed light on single-cell processes related to other diseases or medical fields.