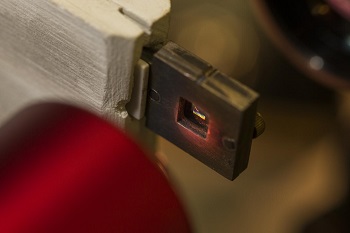 This sample contains hundreds of thousands of nanoparticles that manipulate incoming light. Image credit: Stuart Hay, ANU
A nanomaterial that reflects or transmits light on demand with temperature control may contribute to technology that protects astronauts or satellites in space from harmful radiation. Researchers from Australian National University (ANU) report that the material is so thin that hundreds of layers could fit on the tip of a needle and could be applied to any surface, including spacesuits.
The development demonstrates reversible thermal tuning of all-dielectric metasurfaces based on the temperature-dependent change of the refractive index of silicon. The material could be tailored for other light spectra, including visible light, which could lead to architectural and energy saving applications.
"For instance, you could have a window that can turn into a mirror in a bathroom on demand, or control the amount of light passing through your house windows in different seasons," said Dr Andrey Miroshnichenko from the Nonlinear Physics Centre within the ANU Research School of Physics and Engineering.