When waterborne pathogens prove resistant to conventional disinfectants or when use of chemical agents is not desirable, send out self-propelled microbots decorated with silver nanoparticles.
Researchers engineered Janus, or two-faced, spherical particles to remove bacteria from water. One face is made with magnesium, which reacts with water to produce hydrogen bubbles and propel the micromotors. The other face is made out of alternating iron and gold layers topped by silver nanoparticles. Bacteria stick to the gold and are deactivated by the silver nanoparticles.
Lab testing showed that the particles can motor around in water for 15 to 20 minutes before the magnesium is spent. More than 80% of Escherichia coli in water spiked with a high concentration of the bacteria was trapped. Because of the iron's magnetic properties, the microbots are easily removed with a magnet, without leaving any waste behind in the water.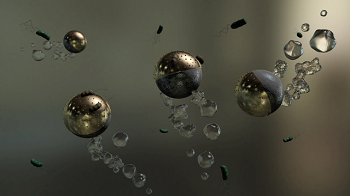 Tiny, self-propelled robots trap bacteria and could help make water safer to drink. (Credit: American Chemical Society)
Scientists from Planck Institute for Intelligent Systems (Stuttgart, Germany), The Barcelona Institute of Science and Technology (Barcelona, Spain) and Institució Catalana de Recerca (Barcelona) participated in this research.