Video: Microneedle Patch Promises Painless Flu Vaccination
S. Himmelstein | June 30, 2017
The first phase of a recent clinical trial demonstrated that an experimental patch of dissolving microneedles can produce robust immune responses and be administered safely. The method developed by Georgia Institute of Technology and Emory University is being advanced as an alternative to needle-and-syringe immunization.
The potential to self-administer the microneedle patch could make vaccines accessible to more people.
No significant difference was seen between the doses of vaccine delivered by health care workers and the study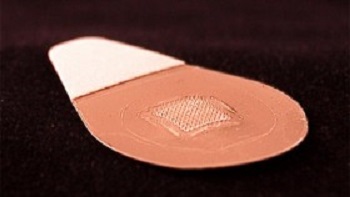 The patch contains tiny needles that dissolve into the skin, carrying vaccine. Image credit: Georgia Institute of Technology volunteers who self-administered the patches, showing that participants were able to correctly self-administer the patch. After vaccination, imaging of the used patches found that the microneedles had dissolved in the skin, suggesting that the used patches could be safely discarded as non-sharps waste. The vaccines also remained potent in the patches without refrigeration for at least one year.
Adhesive helps the patch grip the skin during the administration of the vaccine, which is encapsulated in the needles and is released as the needle tips dissolve within minutes. The patch is peeled away and discarded like a used bandage strip.
The research was funded by a grant from the National Institute of Biomedical Imaging and Bioengineering of the National Institutes of Health.