Samsung to Build Home Appliances in South Carolina
David Wagman | June 28, 2017
After a three-year search, Samsung reached an agreement with the State of South Carolina to open a home appliance manufacturing plant.
The $380 million facility will use an existing structure to produce washing machines, among other appliances. The plant could employ almost 1,000 people by 2020.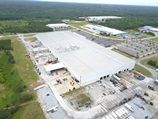 Samsung will occupy an existing facility.Details of state tax breaks for the facility may not be available for up to one year, reports say.
Samsung started talks with South Carolina in the fall of 2016. When fully operational, the plant will employ workers across a broad range of advanced manufacturing roles, including craftsmen, operators, engineers and other both technical and non-technical positions.
The announcement from Samsung follows a series of recent investments in the U.S. totaling over $10 billion. Over the past 18 months, Samsung has:
Acquired Connecticut-based HARMAN International for $8 billion, Samsung's largest acquisition to date that positions the company in the connected car market
Committed $1.2 billion to U.S.-based Internet of Things R&D and investments over the next four years
Committed $1 billion to expanding the Samsung Austin Semiconductor facility, established in 1996 and one of the largest foreign direct investments in the U.S. and the largest ever in Texas
Acquired Dacor, adding the luxury home appliance company's Los Angeles headquarters and 240 employees to Samsung's operations.