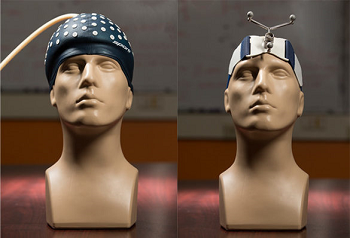 Current elastic headband used for tracking the position of a patient's head during endonasal surgery is on the right. The granular jamming cap that fixes the registration points more firmly is on the left. Image credit: Joseph Howell / VanderbiltEngineers at Vanderbilt University have developed a silicone cap filled with coffee grounds to track patient head movements and orientation during delicate nose and throat surgery.
Traditionally, patients undergoing such surgery wear an elastic headband studded with reflective dots that can be picked up by sophisticated monitoring systems, allowing surgical systems to track where the tools are oriented inside the patient. However, surgeons can inadvertently move or knock the headband so that it slips out of position on the patient's head, throwing out their measurements.
The researchers designed a "granular jamming cap" filled with coffee grounds that does a better job of tracking patient head movements than current methods. The loose grounds form a thin layer inside a stretchy silicone cap decorated with reflective dots. After placement on the patient's head, air is sucked out of the cap with a vacuum pump, jamming the tiny grounds together to form a rigid layer that conforms closely to the shape of the patient's head.
A special scanner maps the location of the dots relative to key features on the patient's head: a process called registration. Then, during surgery an overhead camera observes the position of the dots, allowing the navigation system to accurately track the position of the patient's head when the surgeon repositions it. The computer uses this information to combine a CT scan, which provides a detailed 3-D view of the bone and soft tissue hidden inside the patient's head, with the position of the instruments the surgeon is using and displays them together in real time on a monitor in the operating room.
Testing of the new system showed that the cap reduced targeting errors relative to the current headband approach by 83 percent. The cap outperformed the headband by 76 percent when the forces were applied to the headband and by 92 percent when they were applied to the markers.
On the strength of these results, Vanderbilt University has applied for a patent on the design and the technology is available for licensing.