Printing of World's First 3-D Printed Concrete Bridge Begins
Marie Donlon | June 22, 2017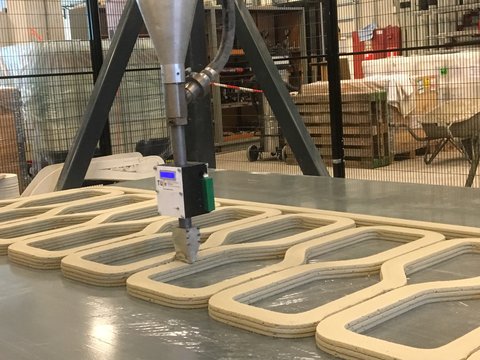 The printing of concrete for the 3-D-printed bridge begins. Image credit: Eindhoven University of Technology
The BAM Infra construction company begins to print the world's first 3-D printed (both reinforced and pre-stressed) concrete bridge this week that will eventually be constructed on a new section of a ring road that circles the village of Gemert.
Using less concrete than traditional construction techniques, the printing process releases less CO2 into the environment due to the decreased production of cement (which produces excess amounts of CO2 and is a necessary ingredient in concrete).
Additionally, the printing process only deposits the concrete where necessary, thereby eliminating the excess waste incurred in constructing extra "blocks." Also, the concrete can be printed into any shape and the steel reinforcements can be printed simultaneously.
The bridge components, according to researchers, will be printed and ready within two months and construction of the bridge is set for September.