Precision Farming refers to managing variations in the fields accurately enough to grow more food while using fewer resources, while at the same time, reducing production costs.
Aspects of the environment such as soil, weather, vegetation, and water vary from place to place, and it is these factors that determine the rate of crop growth and how successful farming efforts prove to be. For hundreds of years, farmers have been aware of this, but they didn't have the tools we have today to measure, map and manage these variations precisely.
Enter precision farming, a tactic that can make a difference in food production that faces challenges like rowing world populations.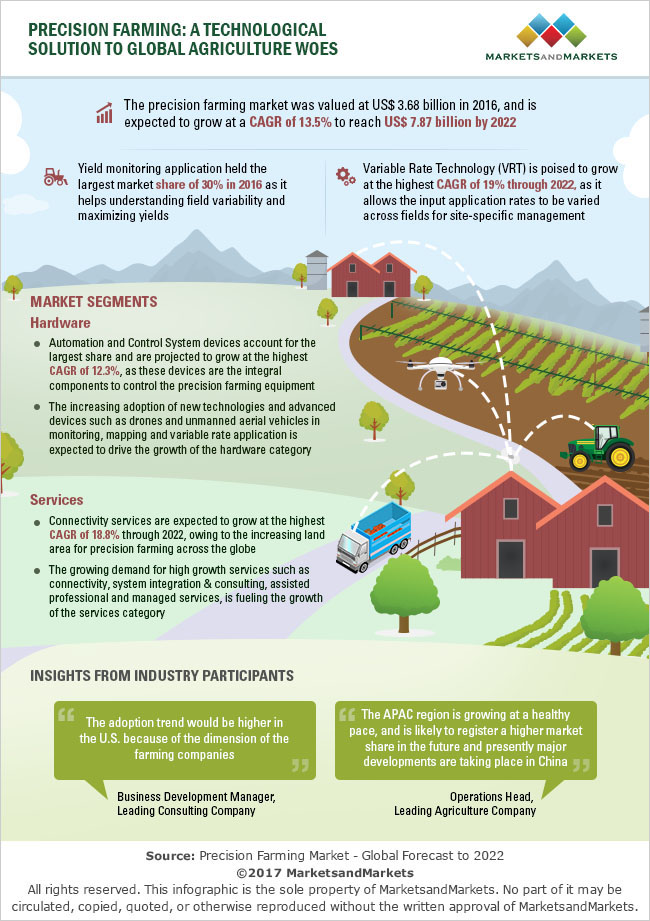 According to MarketsandMarkets' forecast, the precision farming market is expected to grow from $3.20 Billion in 2015 to $7.87 Billion by 2022. The major drivers for the precision farming market include the adoption of new technologies to increase farm efficiency and reduce production cost, increasing global demand for food due to increasing population, increasing need for monitoring crop health for yield production, and the government's support for adoption of modern agricultural techniques.
The research firm recently released a report on this topic covering offering, technology, application, and geography. The yield monitoring application is expected to hold the largest share of the precision farming market between 2016 and 2022.
Yield monitoring is the most widely used application in precision farming as it plays a vital role in understanding field variability and helps farmers in maximizing their yields. Yield monitoring provides farmers the information about weather conditions, soil properties, and fertilizers which may affect the overall grain production. Soil monitoring is the major application of yield monitoring. Soil monitoring is used to detect soil parameters that are needed for an efficient yield production.
The precision farming market for the services segment is expected to grow at the highest rate between 2016 and 2022. The precision farming market for services is segmented on the basis of five broad categories, namely, system integration and consulting, managed services, assisted professional services, connectivity services, and maintenance and support. The increasing demand for managed and assisted professional services is the major reason behind its high growth rate.

The precision farming market is divided into three technological segments, namely, Guidance System, Remote Sensing, and Variable Rate Technology (VRT). The adoption rate of VRT is expected to be high compared to other technologies because this technology helps in applying the right amount of input at the right place on the field, which minimizes the input waste and increases the productivity of the land and crop.