The world's largest and most advanced diamond exploration and sampling vessel, the mv SS Nujoma, is set to start exploring for diamond deposits in Namibian waters.
The $157 million vessel will be operated by Debmarine Namibia, a 50/50 joint venture between the Government of the Republic of Namibia and De Beers Group. Debmarine Namibia is the only company to mine diamonds offshore.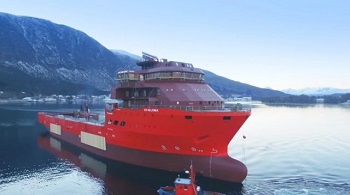 The mv SS Nujoma. (Source: Matt Crabb/Anglo Ameerican)The diesel-electric powered vessel, measuring 113 meters long and 22 meters wide, has a displacement of 12,000 tons and will accommodate a crew of 80. The mv SS Nujoma is the first in the company's fleet of five other vessels to be dedicated to exploration and sampling. It incorporates a range of unique technologies that allow it to sample faster, take larger samples and collect more information per sample than any other diamond sampling vessel. It is capable of sampling at more than double the speed of its predecessor.
The ship was constructed in Ulsteinvik, Norway and fitted with its subsea sampling system, designed by De Beers Group, in Cape Town, South Africa.
Diamond mining will take place at around 120 to 40 meters below sea level.