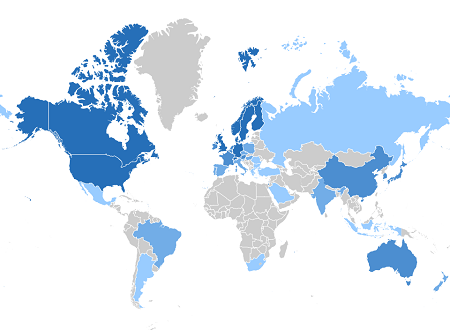 Darker colors indicate higher ranking. (Source: Cleantech Group)The countries with the brightest prospects to produce entrepreneurial cleantech start-up companies that will commercialize clean technology innovations in the next decade are in the Nordic region. The 2017 Global Cleantech Innovation Index finds that Denmark, Finland and Sweden appear to be gearing up for continued growth with increases in the numbers and amount of cleantech funds.
The index, based on key performance indicators for 40 countries, is compiled by the Cleantech Group, the World Wide Fund for Nature (WWF), United Nations Industrial Development Organisation (UNIDO), Asian Development Bank (ADB), Swedish Energy Agency (SEA), and Tillväxtverket.
Poland posts the biggest change from the 2014 Index, rising 13 places to 24th. Its public cleantech R&D expenditure now sits at the global average, having been in last place three years ago. The country has also improved as a more attractive destination for renewable energy investments than before, moving up 16 places in measurement of cleantech patent filings.
The index demonstrates that countries get ahead if they are able to adapt to the growing demand for renewable energy (at home and abroad); are connecting start-ups with multiple channels (e.g. multinational corporates, public procurement) to increase their success rates; and are increasing international engagement to spur widespread adoption of clean technologies.
A strong emerging convergence is observed between clean transportation, energy efficiency and renewable energy, last year accounting for two thirds of early-stage venture capital investments, and a similar proportion of green bonds. This emerging trend is crucial to achieving universal energy access by 2030, and facilitating a just transition to a sustainable and fossil fuel-free energy system by 2050.
An interactive map illustrates the key performance indicators for the 40 countries analyzed.