Google is often touted as having offices you never have to leave. The rumor is you can do your laundry there, eat catered meals, take naps — and do work. Now Google is considering investing in modular short-term housing for its workers near its Bay Area campus. This decision comes in response to the housing crisis that plagues the area.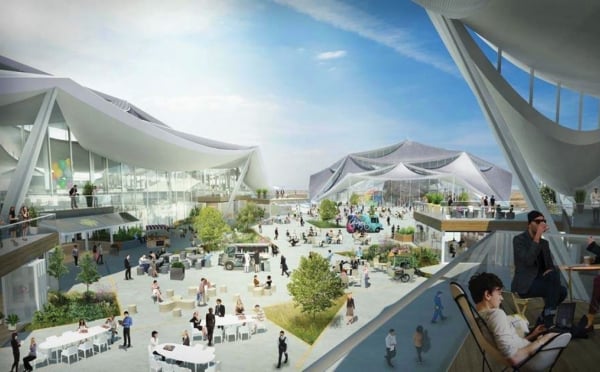 The original plan for Google's corporate campus at NASA's Moffett Field. (Source: NASA)Discussion surrounding the housing crisis consists of countless stories of workers (and not just Google's) living illegally in their offices or backyard sheds due to high housing costs, and more than 1.5 million Californian households paying more than 50 percent of their income toward rent. (Note: the general rule for lenders is not to exceed 28 percent of pre-tax income). It becomes understandable that Google employees wouldn't want to leave the company's cushy campuses.
Google recently reported that it was easier to hire employees for its Seattle office than in the bay area because of the exorbitant housing costs. The tech giant had already been building a corporate campus at NASA's Moffett Field [PDF] that would include three large office buildings "totaling about 600,000 square feet." However, delays have put the project behind with an unclear date of completion. This development is where Google plans to place 300 modular apartments for use as temporary housing for employees.
The Wall Street Journal reported that the project will cost between $25 to $30 million, with modular-home startup Factory_OS manufacturing the units. Factory_OS works out of "the iconic Building 680," which, in their words, is "the famous Mare Island Naval Shipyard machine shop where determined Americans rebuilt the Pacific Fleet after the attack on Pearl Harbor."
Another view of the planned Moffett Field campus. (Source: NASA)Factory_OS touts their modular units as 20 percent less expensive and 40 percent faster than standard construction. Charley Goss, spokesman for the San Francisco chapter of the California Apartment Association, emphasized the need for "alternative [housing] options that are creative and that are potentially less expensive." He continued to say, "People are excited about prefab housing — it's a great option."
Modular buildings are built of separate box-like modules, generally less than 16 feet wide so they can be easily transported on a flat-bed truck. Constructing those modules in a factory allows for more controls and oversight, as well as increased speed since the modules typically follow a pattern for construction and that part of the process can proceed without concern for weather delays that would be relevant in outdoor construction. While those delays could still be present at the final assembly stage on site, the Modular Building Institute reports some factories are capable of delivering a building that is 60 to 90 percent complete.
Modular buildings also tend to be greener with less on-site disturbance due to decreased construction activity and less waste. The individual modules also have a larger potential for reuse since each one is built to stand independently and withstand transportation, making them ideal for relocation after shorter-term use.
Google's pre-fab move is seen as a promising step forward for the region, with experts like Goss hoping others will follow suit, developing modular units where standard construction had been deemed too expensive.