A new mobile app from Netafim USA (Fresno, CA) provides corn growers who use drip irrigation with access to customized irrigation protocols and the agronomic expertise needed to boost crop productivity and reduce overall water use.
The complementary NetMaize app for iPhone and Android combines farmer inputs such as germination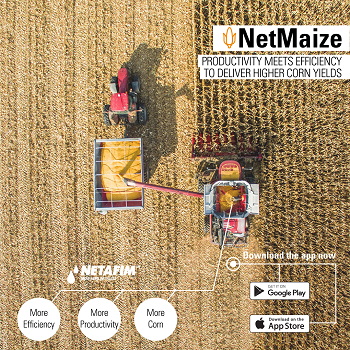 The NetMaize mobile app combines grower knowledge and forecast data to deliver customized irrigation scheduling designed to boost corn yields. (Source: Netafim USA)time, crop stage information, soil type and field location, with climate and weather data to develop a tailored drip irrigation protocol for corn growers using drip irrigation. By streamlining the management of variables affecting overall crop productivity, growers are able to better forecast the irrigation needs of their corn crop and maintain precision control over the root zone environment during the plant's critical growth stages.
In addition to real-time irrigation scheduling, NetMaize's one-touch sharing function allows growers to instantly send current field data and logs to a crop consultant or Netafim agronomist for review or use in a more comprehensive agronomic plan.
The app requires only a few simple steps to get started, uses an easy-to-read interface and communicates input instructions, information and irrigation requirements in a clear and simple manner.