Video: Fuel-efficient V8 Engines for Truck Service
S. Himmelstein | June 13, 2017
Scania (Södertälje, Sweden) is introducing a new family of Euro 6 V8 engines in response to the growing transport industry trend toward heavier, longer trucks. The engines can reduce fuel consumption by 7-10 percent for customers with vehicles that have higher combined truck and trailer weights, higher average speeds, or both.
The new V8 engine platform ranges from 520 to 650 hp; the current V8 engine platform will still be used for the 730 hp version Scania V8 engine. Each of the new V8s is characterized by advanced technical solutions that contribute to reduced weight and increased availability. The company's focus has been on the lowest possible carbon dioxide-per-ton ratios because fewer trucks are needed to perform the same amount of transport work.
While the 16.4-litre cylinder block remains the same, the complete engine weighs approximately 80 kg less than its predecessor. This is mainly due to a simplified engine layout with fewer parts overall – for example, the exhaust gas recirculation unit has now been removed. Consequently, the new V8 trucks have a higher load-carrying capacity.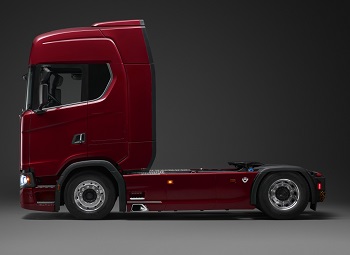 Scania's V8 trucks now range from 520 to 730 hp. (Source: Göran Wink 2017)
A new aftertreatment system includes improved evaporation, selective catalytic reduction catalysts, and diesel particulate filter.
The rotated twin scroll fixed geometry turbo is common in the racing industry, but this is its first use in the heavy vehicle industry. The fixed geometry increases efficiency and results in a 0.5 percent reduction in fuel consumption. The turbo unit also allows for a higher boost pressure, resulting in improved combustion.