MIT Media Lab has developed a new furniture system named Ori which transforms your apartment in seconds. Ori is powered by modular robotics that can adapt a space to accommodate different needs.
There are multiple settings on Ori. Bed mode reveals your bed from underneath the main unit, which is in the middle of the room, making this mode your bedroom. The second mode is lounge mode. This pushes your bed under the main unit, and pushes the main unit against the wall, allowing for the most space possible for entertaining. The last mode is wardrobe mode. This mode keeps the main unit in the middle of your room but pushes the bed underneath so you have access to the wardrobe and storage that are above the bed. This mode also leaves you room to get ready for your day. Ori is available in full or queen sizes.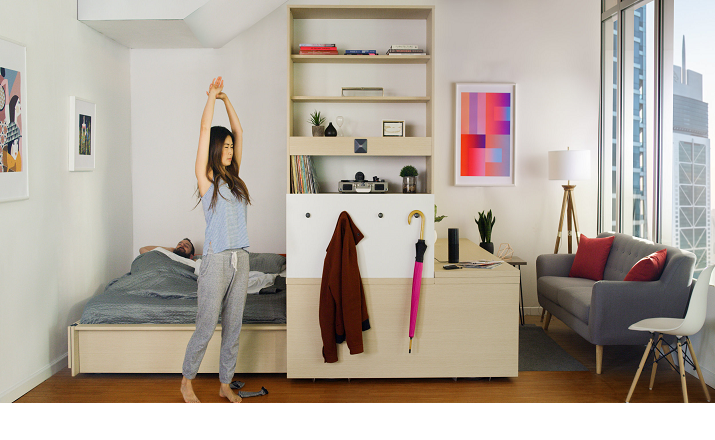 The Ori System in bed mode (Ori Systems, MIT Media Lab)
To turn Ori on, the user just has to plug it into a conventional outlet. There are three ways to control Ori. First, there is an Ori interface on the side of the unit that moves the unit with a push of a button. The second way to control Ori is through the Ori smartphone app. Connect Ori to your WiFi, open the app and you can control the unit. The final way to control Ori is through Amazon Alexa. Once Ori is connected to your WiFi, open the Ori app and connect Ori to Alexa through the app. If there is a power outage in your home, Ori will automatically go into manual mode. In manual mode, you can change Ori's position through pushing and pulling the unit to display what you want.
These new systems can be installed in existing and new buildings. Ori is currently only being sold to developers. The first production is in the pre-order stage and will run about 1,200 systems. Ori will arrive on site flat packed and assembled by the Ori team on site. The final step is to plug the unit into the wall and then it is ready to be used. Ori is currently only available in select cities in the US and Canada, but there are plans to bring Ori to other countries after the first pre-order.
This system allows for maximum use of space. Ori is the future system of the future. To learn more about the Ori System, visit the Ori site here.