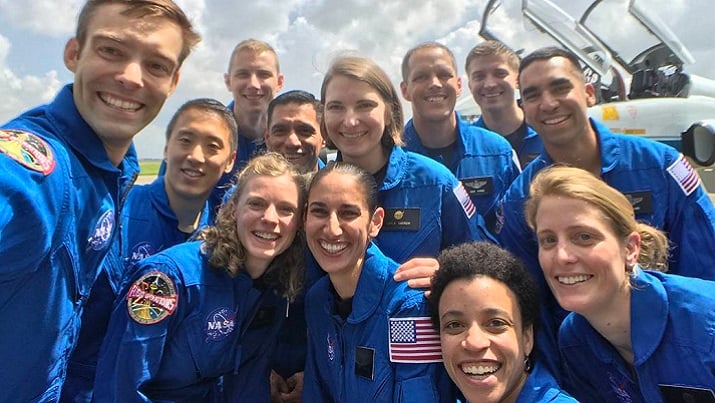 'Selfie' of the 2017 astronaut class. (Source: NASA)So you want to be an astronaut.
Actually, no. You don't necessarily want to be an astronaut, but you'd like to work for NASA. Who could blame you? As the agency says on its Careers landing page, "Our work ranges from the everyday operating of our facilities, to exploring the mind-boggling, furthest limits of the past, present and future of our universe." That's pretty heady stuff. The agency is also ranked No. 1 for large agencies (those with more than 15,000 employees) in the 2016 Best Places to Work in the Federal Government, an annual nonpartisan review. And check out what some NASA employees have to say, in their own words.
So what makes someone a candidate for NASA employment? First off, apart from extremely rare circumstances, you must be a U.S. citizen to work for the agency as a civil service employee (uniformed service members should contact their branch of service for additional information; alternate opportunities exist for non-citizens with NASA's International Space Partners).
Qualifications vary by occupational groupings, so let's take a look at what those are.
Professional, Engineering and Scientific: This category represents 60 percent of NASA's positions, and includes areas like aerospace, computer and general engineering; biology, computer science and meteorology; and accounting. Depending on the specific position, candidates need knowledge in a specialized field such as science, math, engineering, law or accounting – and a bachelor's degree or higher, with major study in that field.
In addition, attorneys working for NASA must have a professional law degree and admission to the Bar. Qualifying for a medical officer position at NASA means completion of internship and residency (aerospace specialty preferred), and possession of board certification licensure. Requirements for pilots (not including astronauts — see more info on that, below) include FAA certification or equivalent armed services rating, and a minimum of 1,500 hours of pilot-in-command jet aircraft flight time.
Administrative and Management: Representing 24 percent of NASA's positions, most occupations in this category do not require specialized education, but do involve the type of skills typically gained through a college education, or through progressively responsible work experience. Important here is knowledge of organizational concepts, practices and principles. This group includes specialist positions in areas like administration, budgeting, contracts, information technology and public affairs.
Separate but related: Serving just below the top Presidential appointees, members of the Senior Executive Service (SES) have qualifications all of their own.
Technical and Medical Support: Making up 9 percent of NASA's positions, these are jobs that require practical knowledge of techniques and equipment gained through training or experience, and a high-school education. This category includes aircraft, electronics, engineering and meteorological technicians, as well as equipment, safety and quality technicians.
Clerical and Administrative Support: Positions that provide general office or program support duties make up 7 percent of NASA's positions. These include titles like accounting technician; management assistant; office automation or procurement; and secretary.
Additional Programs: A variety of positions representing all the above occupational groups are represented in NASA's student-centered programs: the Internship Employment Program, Recent Graduates Program and Presidential Management Fellows Program.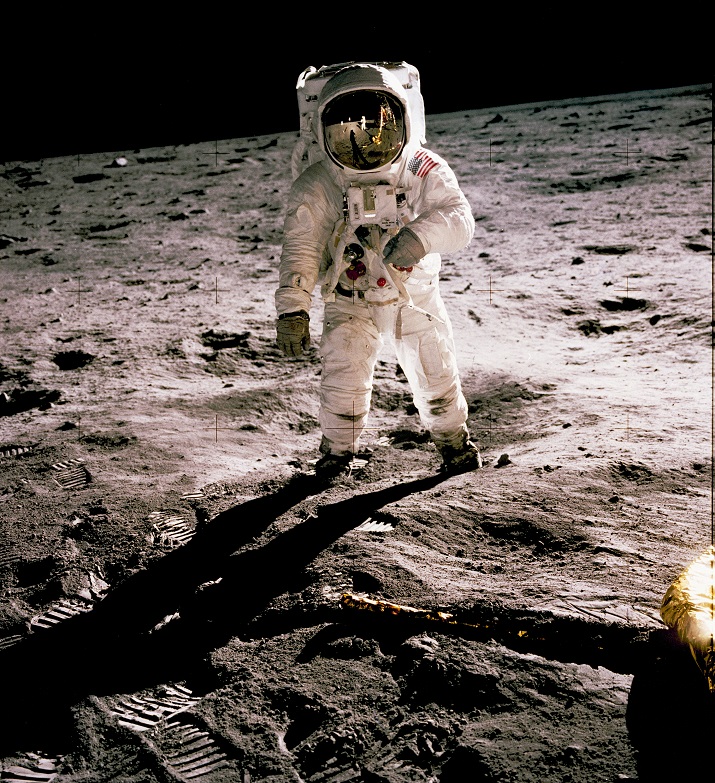 One of the most iconic images in photographic history, taken by Neil Armstrong after the first crewed vehicle landed on the moon in 1969. (Source: NASA)Astronauts: So what about astronauts? We saved the best for last. In addition to a bachelor's degree in engineering, biology, physics, computer science or mathematics, applicants to the Astronaut Candidate Program need at least three years of related, progressively-responsible professional experience, or at least 1,000 hours of pilot-in-command time in jet aircraft. Advanced degrees or teaching experience in science, engineering or math can be substituted for some of the professional experience.
There's more. You need to pass the NASA long-duration astronaut physical and meet certain anthropometric requirements for spacecraft and space suits. If you're an applicant under final consideration, you'll go through a week-long process of personal interviews, medical screening and orientation; a complete background investigation is performed on final selections.
And there's still more. Selection as an Astronaut Candidate does not ensure selection as an astronaut. You may be assigned to the Johnson Space Center in Houston, to undergo a training and evaluation period lasting approximately two years, which will include aspects such as military water survival, SCUBA qualification, robotics skills training – even training in the Russian language.
But then, no pun intended, the sky's the limit: Astronauts are involved in all aspects of assembly and on-orbit operations of the International Space Station (ISS), a permanent laboratory where up to six people can live in a realm where gravity, temperature and pressure get manipulated in ways that are impossible to achieve on the ground. Crews conduct medical research; develop new materials and processes to benefit industries on Earth; and accelerate breakthroughs in technology and engineering designed to have immediate, practical applications for those of us back here on good ol' terra firma.
Oh, and speaking of applications…