Video: Student Uses Old Bike Parts to Design Wave Energy System
S. Himmelstein | June 09, 2017
With the aid of a professor of intelligent engineering systems, a product design undergraduate student at Nottingham Trent University, UK, used readily available materials to build a wave energy harvester for deployment in developing areas.
The device, designed for near-shore use, can generate 5.6 W from 20 cm high waves, making it capable of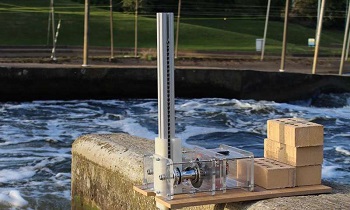 Harvester components include a pressure cooker and bicycle parts. (Credit: Nottingham Trent University)charging a mobile phone.
A pressure cooker serves as the buoy. A rack assembled from an aluminum extrusion channel is fixed to the cooker lid and creates linear energy as each wave passes beneath. Bicycle chains encased in either side of the channel function as teeth for the rack. Two bicycle sprockets are used as pinions and interlocked with the chains to convert the linear energy to rotational energy.
As the rack moves upwards with a wave, the first sprocket turns and powers the generator while the second is disengaged, as when a cyclist freewheels on a bicycle. As the rack moves downwards when the wave passes, the second sprocket turns and the first is disengaged. This allows the harvester to maximize efficiency by generating power from both the rise and fall of each wave.
After turning through a series of gears to increase the centrifugal force, the rotational movement spins a small generator at 151 rotations per minute which creates electricity.
Says Professor Amin Al-Habaibeh, "It's a great example of research-informed teaching, providing the students of today with the skills and knowhow to change the world of tomorrow."