Nation's First All-Wood High-Rise Building to be Built In Portland, Oregon
Marie Donlon | June 07, 2017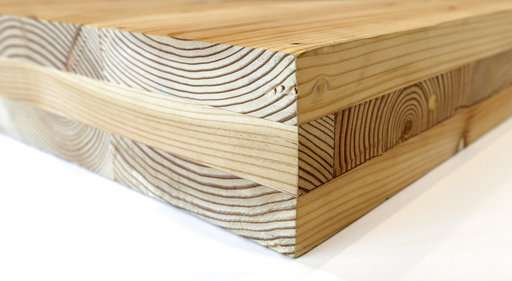 This Nov. 15, 2016, file photo shows a piece of cross-laminated timber, or CLT , in Portland, Ore. Image credit: AP Photo/Don Ryan, file
A 12-story high-rise building made entirely of wood, the first of its kind in the nation, will be constructed in Portland, Oregon.
City officials have approved the construction of the building—called Framework—after an exhaustive round of tests on the materials and technologies being employed in the project. Among the materials being used is a product called cross laminated timber (CLT), which involves a process of creating a cross hatch design using 2-by-4 boards, glue and a press for drying the panels.
The CLT, which has undergone a number of fire safety and pressure (earthquake) tests, is stronger, lighter and easier to work with than traditional wood thanks to its design.
Since the local logging industry has been experiencing a decline in recent decades due to increased environmental protections for wildlife, state officials are hoping the project will spark interest in using mass timber in high-rise construction.
"Projects like the Framework building present a new opportunity for Oregon that we are perfectly suited to take on," Gov. Kate Brown said. "Oregon's forests are a tried and true resource that may again be the key to economic stability for rural Oregon."
The Framework will be the future home of bank offices and subsidized apartments and the construction is expected to begin this fall and completed by the following winter.